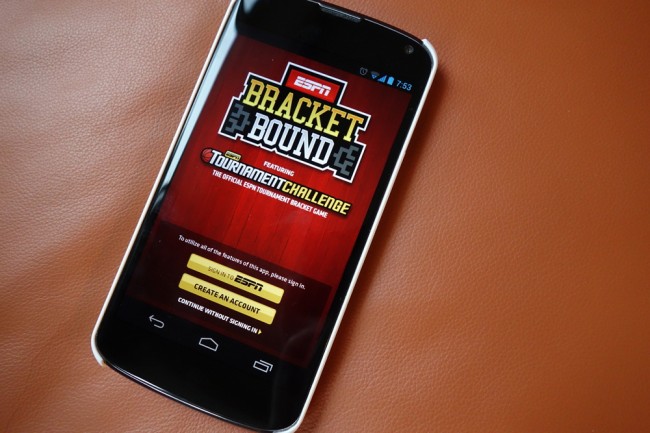 The 2013 NCAA men's college basketball tournament kicks off tomorrow, marking my favorite time of the year in sports. We already launched our bracket challenge (which you should join), but wanted to make sure you also were up on your Android app game to help you fully keep track of the action. If you aren't able to spend each Thursday and Friday in a bar with a pitcher or two of beer and some wings for the next month, then you may want to take advantage of apps that will let you stream all games from anywhere on your mobile device. You'll also want to keep track of those brackets, to see if you have any chance at taking down the best in the DL community.
Here are a few Android apps to help make your 2013 NCAA tournament the best yet. 
Bracket Apps:
ESPN Bracket Bound: This is the app you'll need to use to keep track of your entry in the DL group and contest. It doesn't look like brackets are live in it yet, but they should be very soon.
I'm assuming Yahoo will have one, maybe others. Once they are live, we'll add them here.
Watch Live Games:   This is your ticket to watching every single tournament game live from your mobile device. The March Madness Live app definitely had some issues last year, so hopefully this year's update will make it work, and also on more devices.
Scoreboard Apps:  For keeping track of all the scores and upsets as they go down.
If you have any other favorites, be sure to drop them in the comments and we'll do our best to add them to the list.