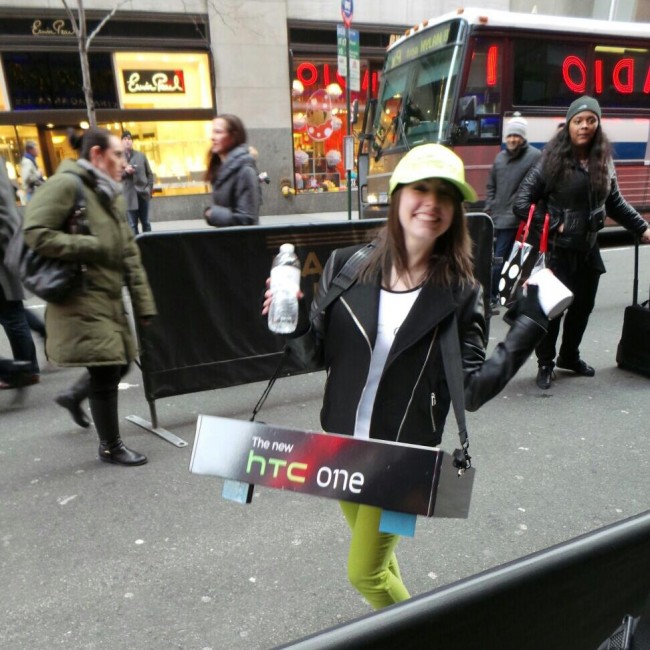 Life is funny at times. One minute you are on top of the world – the next, you are sitting rock bottom, wondering how on Earth you will ever scrape by. In some cases, we see humans (or companies) put their last and best foot forward in an attempt to salvage whatever is left. It can be uplifting, inspirational even. It can also be incredibly embarrassing as desperation sets in, leading to decisions or choices that one would normally not make. Last night, HTC unfortunately fit the latter as Samsung took over New York City to announce the Galaxy S4. 
Before the event even began, we snapped the photo you are seeing above. It's a hired hand that HTC paid to walk around the line of press and fans waiting to get into Samsung's event. There were a number of these girls who offered up snacks and drinks to those standing in the cold. It was a sneaky move, but not one I would necessarily say was outrageous or offensive. If you have a new phone on the horizon and your competitor is throwing an event, you should probably make an appearance of some sort. Companies have done this for years.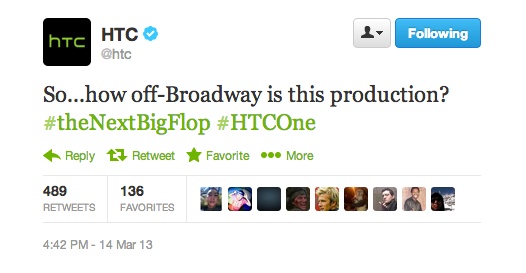 But it's the few minutes after the event had started that HTC kicked it up a notch – this is also where things turned for the worse. You see that Tweet above, the one that takes a shot at Samsung's production and then calls its next phone the "next big flop?" Yes, that actually happened. In fact, the Tweet is still there.
That's not all though. If you take a look through HTC's list of retweets, you'll see nothing but retweets and responses to anything negative that Twitter users were saying about the Galaxy S4.
Both their CMO and president of sales have come out to express their feelings as well, using terms like "embarrassing" when referring to Samsung's stage show. They called the phone "more of the same" and said that Samsung appears to have spent more on marketing than innovation.
Look, I get it. You are down and you need to do anything necessary to get your name in the news. Hey, it worked, we're talking about it! But at some point, there is a level class that needs to be upheld even as a competitor – at least in my book. With the game on the line, you don't walk under Kobe Bryant's last second jumper, knowing full well he could be injured on the way down. You don't slap Blake Griffin in the groin because he beat you to the spot. You don't blind side the quarterback after a pick in an attempt to "block" for the return because it's the one time you can technically get a full shot at him without penalty. It's dirty and you look like a fool during and after the fact.
We still don't know which of the two phones here is the best. That may be up for debate for an entire year. We'll have time in the very near future to fully compare them both and generate our own conclusions. After having both in hand, I'll admit that it's tough to deny that the HTC One is nothing short of being one of the best phones we have seen in some time, because of its premium build and incredible specs. But until the day comes that we can all get our hands on each, I hope we aren't forced to see this play out publicly.
Stay classy.
Via:  @HTC