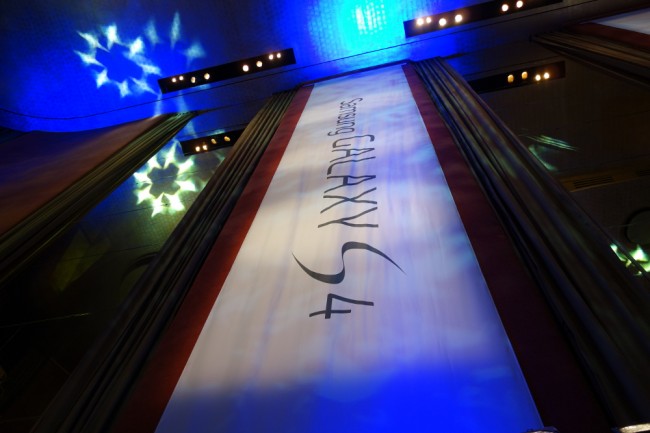 Well, it's finally over. The Galaxy S4 from Samsung and all of its specs are "confirmed," which means we can give our first real impressions on the device. Before it launched, we asked everyone on the DL team what their predictions were, so now that all of us have seen Samsung's offering, let's get to it. 
In the comments below, feel free to weigh in with us and give us your true thoughts on the Galaxy S4.
Tim's thoughts:
You know what, I am actually really impressed with Samsung on a hardware level. I'll get to software later, but I want to emphasize a sort of accomplishment Samsung achieved. Samsung was able to take the Galaxy S4, make it smaller than the Galaxy S3, while also giving it a bigger display and make it thinner. Now, that sort of sounds like something Apple did with the 4S to the 5, but for some reason this seems more impressive to me, given that the S4's display is a whopping full 5″ and not a mere 4″ like the iPhone 5's. Why this matters, I don't know exactly. So yes, I am actually happy with the look of the S4 and I can not wait to check one out myself.
So, about that software. Samsung, where do you get off? Who do you think you are? Part of a balanced breakfast and delicious? I appreciate that Samsung went the extra mile and delivered the Galaxy S4 running Android 4.2.2, but this just looks like every other Samsung device running TouchWiz. I didn't even think it was possible to make the Android 4.2+ pulldown bar look any uglier. Why the heck do you have all of those ugly a** skinned tiles on the bar? That is seriously horrendous and I curse you for it.
And you know, I'm not going to sit here and be upset about your silly presentation. So you have a taste for things corny and over the top, that's fine. I think you delivered and gave folks a good show.
Kellen's thoughts:
To be honest, as a tech-nerd at heart, I was impressed by what Samsung did last night. The presentation may have been incredibly cheesy, but hey, at least it wasn't director after director, VP after VP, talking about how incredible the design of their phone was or how they invented some new camera sensor. It wasn't just another series of boring demos with breakdowns in WiFi connectivity or a bumbling mess. They stood on stage, did a little song and dance, announced more features than I can even remember, and then gave us a phone that is quite an upgrade over last year's model.
The device itself looks quite similar to the S3 at first glance, but Samsung managed to pack a bigger display into a smaller package, better processor, bigger camera sensor, some new never-before-seen sensors, and a design that they are trying to become known for.
It's not some radical change, which I know that we all love to see each year, but the reality is that companies are settling into identities, much like Apple has done, and the risk is too great to completely change it up. Plus, when you are killing it like Samsung, why go wild and do something crazy?
I don't know if this phone is better than the HTC One, but it's going to be a hell of a time reviewing each and trying to help DL readers decide. Actually, I'm so torn that I can't wait to decide for myself.
Eric's thoughts:
Overall, the presentation last night might have been a little over the top, but it was supposed to be a Broadway-style presentation, which are over the top anyways. All of it for a cell-phone I know, but Samsung made a big show and made sure that people were going to remember their new Galaxy S4 didn't they? I like the new software enhancements. All their camera improvements and software like the Dual Cameras and Story Album are pretty cool. I'm still not a fan of the Nature UX TouchWiz, but I know that it isn't going anywhere anytime soon. The finger-hovering tech seems pretty cool but something that I'll probably never use, same goes for the eye-tracking software.
The hardware is what worries me the most about this phone. The screen and camera are great, no doubting that. I do however feel that Samsung is slowly going up in their phone sizes with no signs of stopping. Hopefully with the abundance of 1080p screens that come with 5″ we can stop there instead of getting larger and larger.
Last night in the comments a reader pointed out a quote from one of Samsung's commercials making fun of Apple "How will I know it's the new version if it looks exactly the same?" I know that Samsung has found a design that sells well and wants to stick to it, but the plasticy feel of the device and home button is really going to set a lot of people off of this phone. When people jokingly call this a GS3S, they are almost right in my opinion.
Ron's thoughts:
I think the Galaxy S 4 is a nice iteration on the S 3. I don't like the design of the hardware, but I do think it is an improvement over the S 3 (however slight that might be). In terms of internal hardware, I think Samsung did a great job. They have dual band WiFi (including ac, which seems like a waste at this point), Bluetooth 4, NFC, etc. The processors look great (not that a processor matters much today), the battery is huge, and the screen looks top notch (the S 3's screen was sub par in my opinion, so I'm hoping the S 4's screen looks a lot brighter and crisper).
The software looks largely the same. You can hardly tell that Android 4.2.2 is underneath Samsung's heavy customizations. I don't like the design of the lock screen, the home screen, the notification bar, etc. They look cheap and over saturated like they did on the S 3.
The one feature I was impressed with was Dual-Shot, which lets users take pictures or video with both the front-facing camera and the rear-facing camera. I can see how that would be very useful. Outside of that, features like S Health, Smart Stay/Pause/Scroll, Group Play, etc. didn't excite or impress me. S Health is late to the game, Smart Stay/Pause/Scroll seem lazy to me, and Group Play doesn't make sense to me. Why would I want to use my seven friend's phones to make a really poor sounding surround sound experience?
Perhaps the strangest thing about the whole announcement was that Android was mentioned once, and that one time was only to mention that Samsung Knox is based on the government's version of SE Android. Google and its services that make the S 4 matter to consumers were not mentioned once. Samsung talked about its media hubs instead of the Play Store and its email app instead of Gmail. Samsung didn't even mention that Android 4.2.2 was on board, surely a sticking point for HTC's PR (and undoubtedly disappointing to Phil Schiller who predicted it would come with Android 4.1).
Samsung's presentation was strange, sometimes bordering on sexist, and continuously distracting as transitions and insane marketing propaganda sprinkled the event. Samsung's insistence that the S 4 will give me a richer, simpler, fuller life deserves its own segment of "Really?!" with Seth and Amy. Smartphones are certainly transforming the way we live, but they don't always lead to a richer, simpler, and fuller life (and the S 4 isn't special in that regard).
I'll have some more thoughts next week, but the big takeaway for me was that Samsung puts on a big show and gets more attention than any other OEM, but they still aren't the OEM I want to see succeed. I don't like their hardware, software, or message. I'm sure the S 4 will be a success thanks to Samsung's massive marketing campaign, but I don't think Samsung represents what I want in an Android OEM, much less in a smartphone.