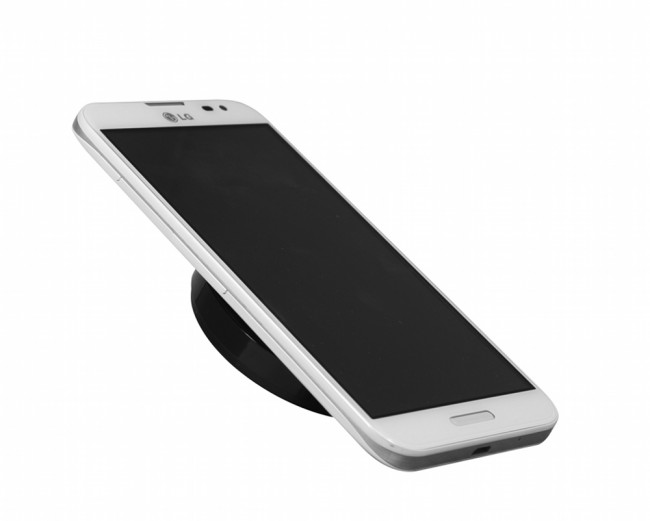 One thing we certainly love above LG is their infatuation with wireless charging and the Qi standard. After having released the Nexus 4 and Spectrum 2 here in the States with wireless charging built in, followed by the launch of the Nexus 4's wireless charging Orb only a week or so ago, it's clear that they aren't interested in add-on wireless kits like Samsung has done for years. No sir, with LG, they want wireless charging built directly into their devices. 
So with today's tonight's announcement of the "world's smallest" wireless charger, this only solidifies their stance on wireless charging as a major feature in the future of smartphones and technology.
This new charger, which doesn't actually have a name other than WCP-300, is Qi certified (wireless standard) and contains a charging area that is 1.7 times wider than their previous generation chargers. It's also only 6.9mm in diameter and roughly the size of a typical beverage coaster. It looks a lot like the Nexus 4's Orb, only without the angular half-sphere attached.
No availability or pricing was announced.
LG INTRODUCES WORLD'S SMALLEST WIRELESS CHARGER
LG's Thin and Sleek Wireless Charger Delivers Maximum Charging Performance and User Convenience

BARCELONA, Feb. 26, 2013 – LG Electronics (LG) today introduced the world's smallest wireless charger at Mobile World Congress (MWC) in Barcelona. At only 6.9cm in diameter, the WCP-300 is designed with portability in mind. Despite its di-minutive size, the charging area is 1.7 times wider than that of LG's previous generation wireless charger. The new model is compatible with a standard 5-pin micro-USB charger, providing the highest level of charging performance and user convenience.

The WCP-300 employs electromagnetic induction technology and is Qi certified by the Wireless Power Consortium. Electromagnetic induction produces a magnetic field that in turn generates an electric current to charge the batteries in devices placed on the charging pad. Certification ensures that the WCP-300 is compatible with all smart-phones that support the Qi standard.

"Wireless charging is the holy grail of smartphone user convenience," said Dr. Jong-seok Park, President and CEO of LG Electronics Mobile Communications Company. "With the WCP-300, LG was able to deliver both portability with top-class charging capabilities in a device no larger than a typical beverage coaster."

In the US market, both the LG Spectrum 2 and Nexus 4 feature built-in support for wireless charging right out of the box, eliminating the need to purchase separate covers. LG believes that built-in support for upcoming smartphones will be the most critical development in making wireless charging the industry standard going forward.

LG is committed to offering consumers a better mobile user experience by introducing smartphones with more advanced wireless charging technologies in the global market.

About LG Electronics, Inc.

LG Electronics, Inc. (KSE: 066570.KS) is a global leader and technology innovator in consumer electronics, mobile communications and home appliances, employing more than 93,000 people working in over 120 operations around the world. With 2012 global sales of USD 45.22 billion (KRW 50.96 trillion), LG comprises four business units – Home Entertainment, Mobile Communications, Home Appliance, and Air Conditioning & Energy Solution – and is one of the world's leading producers of flat panel TVs, mobile devices, air conditioners, washing machines and refrigerators. LG Electronics is a 2012 ENERGY STAR Partner of the Year. For more news and information on LG Electronics, please visit www.LGnewsroom.com.