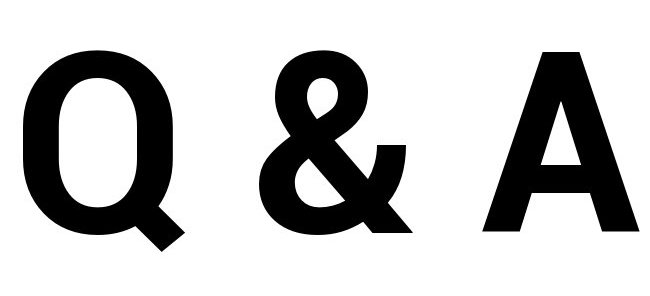 We have your answers from Volume 10 of the Droid Life Q&A Sessions. As always, we had a ton of questions to go through and we hand picked some that we thought everyone might benefit from. We even answered a few on this week's Droid Life Show, so definitely give that a watch if you want an even more top of the head answer. If you are ready to go inside the minds of the DL staff, read on. 
Reminder: K is Kellen, R is Ron, T is Tim, and E is Eric.
1. 3 things out of the top of your head that your expecting at Google I/O besides the obvious (Key Lime Pie).
K:  It's hard to think about I/O without thinking of Key Lime Pie, since that may be where all of the new fun comes out of. But outside of KLP, I want more Google Now. I want Now to continue to do things for me that I never thought it could, well. I'd like to finally get Google Glass on my head, so that Tim and I can stop arguing over whether or not it'll be awesome. Last, I want the Nexus Q to return and to be as awesome as it could be.
R:  More Google Now, more Glass news, and a new Nexus Q.
T:  I want Google Glass. I want Gtalk to be completely integrated into other communication services from Google. Like an all-in-one. And I want them to reintroduce the Nexus Q so I can say, "I called it!"
E:  Chromebooks everywhere, especially after the announcement of the Pixel yesterday. More Android design refinements from our beloved Matias Duarte. Another crazy keynote like we had last year with the Google Glass parachuting into the room.
2. What are your deal breakers in a smartphone?
K:  It can't be too big. Anything over 5″ is too big for me and won't be my daily device. The camera also cannot suck or I'll be looking elsewhere in a hurry.
R:  Bad screen, bad battery life, no CM10 option.
T:  The deal breakers for me this year are an HD display, a battery that can easily (and I emphasize easily) go a full day without having to plug it in, and a solid back-facing camera.
E:  It'd have to be battery life. Specs and screens and features are cool and all, but if the phone doesn't stay alive long enough for you to use them then what's the point?
3. If your contract was about to expire would you leave that carrier (Verizon for me) for a pre paid service? If so which one?
K:  That's a really tough question. But I will say this – that I use my Verizon line less and less. In fact, the Nexus 4 on Solavei (T-Mobile) has been my daily driver since it came out. Well, it was AT&T before I switched to T-Mobile, but I really haven't missed Big Red at all. Prepaid plans offer unlimited data and in some cases, if you can find T-Mo's HSPA+42 service, it's almost better than Verizon's.
R:  If I wanted to leave Verizon then I would switch to T-Mo. Nexus devices have always been available on T-Mobile and they have great pre-paid plans. It's a great option if you have good T-Mo coverage and you can get out of your contract.
T:  I don't know if I would leave Verizon at this time. If I was kicked off of unlimited data I could see that being a though, but until then, I will stick with Big Red. I enjoy having coverage wherever I go.
E:  T-Mobile is looking more and more attractive with the things that Verizon is doing these days. If I had to move to a prepaid service it would be through them.
4. Do you think Google will release a Nexus (or X Phone possibly) that is sold through the Play store that will work on Verizon's LTE, as well as all carriers?
R:  I think Google may release another Nexus on Verizon, but I don't think a subsidized Verizon version will be available on the Play Store. I would love to be wrong about that, but I don't think Verizon is willing to do it. That would mean giving up control, and Verizon doesn't want to just be a dumb pipe for your data and voice.
K:  I'm not sure they can unless Verizon approves it. CDMA networks are all sorts of locked down as far as I know, and not just anyone can throw a CDMA radio in a phone and make it work on a carrier of choice. If they were to release an LTE-only phone that worked on Verizon's LTE frequency, then maybe, but that would be risky since LTE isn't everywhere at this time. We have to hope that they get approval from all the carriers, especially the CDMA ones.
E:  There is no way that Verizon will ok selling a phone through a source that they don't have their hands on. Unforunately this is another instance where I see the other carriers actually working with Google on this and Verizon thumbing their nose because they have CDMA and don't want to play nice. If we get an XPhone and if it comes to Verizon (big if there), you'll have to buy it on-contract through their store on website.
5. Would you recommend the Nexus 4?
K:  100% would recommend it for everyone. I've been using it since before it was released and haven't looked back. The camera is far improved over previous Nexus phones, the specs top most phones (except those with 1080p displays), and on HSPA+42, is as fast (if not faster) than some LTE networks. It's my favorite phone of the last year, followed by the Galaxy S3.
R:  If you don't need LTE and don't mind being super careful or having your phone in a case, the Nexus 4 is a great phone. It all depends on your individual needs.
T:  Would certainly recommend this phone to anyone. My brother currently has one and he loves it. Stock Android, powerful chip, great camera, and sweet looks. It's the ultimate Android phone, basically.
E:  Yes. It's a fantastic phone at a pretty decent price that you can buy through Google Play, if I was on AT&T or T-Mobile that would be my daily driver right now.
6. What size phone feel the most comfortable and why?
R:  I prefer a 4.3 inch screen. It fits better in my hand and pockets. I have a tablet for watching video and writing. I want my phone to be super portable, yet powerful.
K:  I really like the feel of the Galaxy S3 and Nexus 4. Their 4.7″ and 4.8″ displays are just right for my normal hands as I can reach the top corners of the display without much work. Their designs are also made to sit well in your hands, aren't too wide or tall, and lack the heavy weight of phones of old.
T:  Somewhere in the 4.7″ to 5.0″ range. Yes, I know I rock the Note 2 like a boss, but the 5.5″ is still completely overkill. I think once I get my hands on the HTC One, I will have a brand new love and passion for smaller displays.
E: I'm a big fan of the size of the Galaxy Nexus and the size around that area. 4.6″ – 4.8″ feels great in my hands, granted I have big ones. I think that is the new sweet spot between the small phones, 4.3″, and the huge ones, 5.5″.
7. What are your daily devices (phones, PCs, tablets)?
K:  On my desk at the moment, I have my Nexus 4 (T-Mobile service), Galaxy S3 (AT&T service), RAZR MAXX HD (Verizon), Nexus 7, iMac 27″, Blue Snowball mic (podcasts), 3TB Apple Time Capsule, Nexus 4 wireless charger, Logitech wireless keyboard and mouse, Sony a33 camera. and some Bucky Balls. Yep, that's all.
T:  Sitting on my desk is my beloved Galaxy Note 2 (Verizon service), a Nexus 7 and Nexus 10, Nexus 4, OG DROID (just so I can remember the good times we shared), ASUS Zenbook for work, 24″ Samsung LED monitor, wireless Microsoft keyboard and a Logitech wireless mouse.
E:  Daily phone is still my Galaxy Nexus, and the tablet that I use almost everyday is the Nexus 7. I have an Acer A510 that I keep around the house and use every once and a while when I'm in front of the TV or something.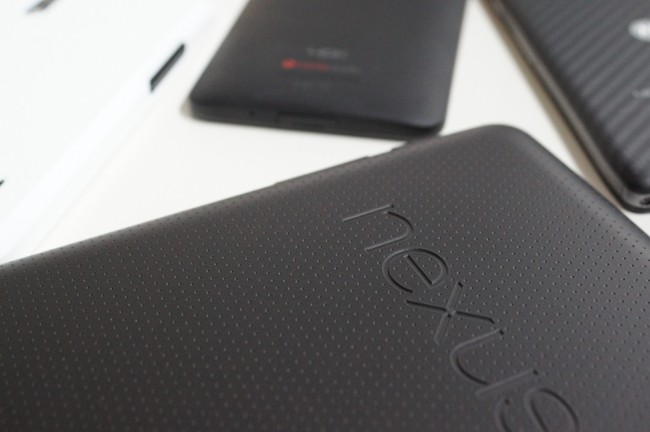 8. Why were you all so quick to dismiss BlackBerry as a viable OS, you guys gave Windows 8 a shot why not Blackberry?
R:  I'll give BB10 a shot like I did Windows Phone, but like Windows Phone I have sincere doubts. I didn't pull any punches when I reviewed Windows Phone 7.5 or Windows Phone 8 – I don't think they're competitive. I won't pull any punches if I get the chance to review Blackberry 10, either.
K:  We will most definitely do what we can to give Blackberry 10 a full look just as we did Windows 8. Once the device is more available, we'll hit up carriers and Blackberry to get a review unit. Since we are an Android site, it's not as easy to get early review units for an OS that we don't typically cover. But yes, we'll give it a full look so that the competition is covered.
T:  Because it's BlackBerry. Not a fan. Never have been. Plus, I haven't told you guys my story about Alicia Keys! She stalks me!
E:  Ever since their collapse shortly after the release of the Playbook, all BB has been saying is "wait until BB10 comes out and we'll show you something." Well we sat and waited for this new OS and it is nothing new or special. BB had all the time in the world to go back to the basics and try and come up with something competitive and new, but they are still just relying on their old image of "being for business people."
9. What is your favorite college team?
K:  I'm a University of Montana alum, so I follow the Grizzlies football program still. Since I live in Oregon now, it's easy to be a Ducks fan, since they are so damn fun to watch. I'm also a west coast homer, so I tend to cheer for the Pac-10 whenever they play anyone outside the conference, especially the SEC. Growing up, I was a huge fan of Arizona, Kansas, and Connecticut basketball.
R:  The Winston University Owl Cats.
T:  It's all about Cal Berkeley! No matter what sport, they all gold everything!
E:  Mizzou, where I used to go and Indiana University, where I go now, are my two favorite college teams for obvious reasons. IU's got a good shot to go all the way this year in basketball, who's with me?
10. Do you guys have any individual Blogs, YouTube pages, or websites, and can I get a link. Also, Where can I find you guy's individual twitters, or are those private?
R:  I have a couple blogs, none of which will be updated until Lent is over. You can find my thoughts on Christianity at ronoffringa.org and my thoughts on general technology at ronoffringa.me. My tumblr, which I update more regularly with random thoughts and comic book stuff, is ronoffringa.tumblr.com. You can find me on Twitter as @ronoffringa. When Lent is over Twitter will be the place to find me.
K:  My Instagram is about all I use.
T:  I love Instagram and I sometimes use my Twitter.
E: The only social network I really stay active on would be my Twitter, @EricRees. I also have a Tumblr under a similar name that I use every once and a while if you guys are in on that website as well.