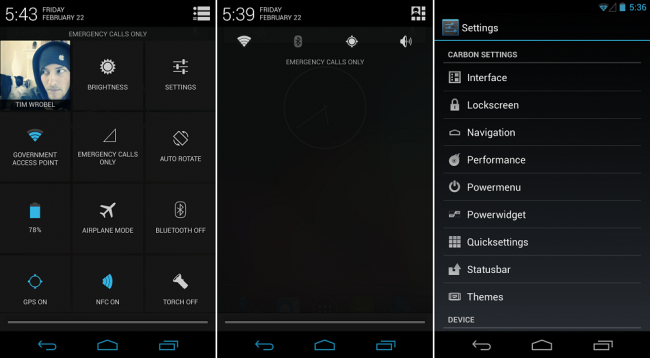 We have Custom ROM Friday back in action, and this is the first week we asked our readers to choose which ROM we feature. We had an overwhelming response and according to your voices, we have chosen to feature CarbonRom. 
I flashed Carbon to a Nexus 4 and in terms of changes made to Android 4.2, it's over the top, but in a good way. The developers added a ton of useful customization options, as well as other performance settings that make the Nexus 4 (or any other device you happen to flash it to) even more of a beast than it already is.
For example, the PIE feature that we have written about before is on board, as well as a kernel that handles over/underclocking with ease. They have added the ability to change all your enabled quick settings in the pulldown bar, and it also has theme capabilities on top of options to change your navigation bar's colors and enabled buttons.
Note:  To flash a custom ROM, your device must be unlocked and running a custom recovery.
Installation instructions:
1.  Download the right zip for your device and place it on your internal memory.
2.  Download the gapps zip and place that on your internal memory as well.
3.  Reboot into custom recovery.
4.  Create a nandroid backup.
5.  Install the ROM zip file.
6.  Flash the gapps zip file following ROM installation.
7.  Reboot and enjoy.
With a ROM like Carbon, it is hard to go over every added feature, but I can now see why so many people have been singing its praise. For a quick overview of some fancy features, see the list below.
Features:
Comprehensive speed enhancements, including Linaro -O3.
Unofficial Voodoo Sound support on Note 2 and i9300 devices.
Carousel lockscreen
Customizable lockscreen buttons and sliders
Chronus clock widget
Customizable hardware and software keys
Transparent navbar and status bar
Navigation bar widgets
Customizable power menu
Notification power widget
Notification brightness adjustment
Customizable quicksettings panel
Supported devices:
Samsung Galaxy SIII
Samsung Galaxy Note II
Samsung Galaxy Nexus
Samsung Galaxy Note International – n7000
Samsung Galaxy SII International – i9100
LG Nexus 4 – mako
HTC International One X – endeavoru
HTC One S – ville
Asus Nexus 7 – grouper
Samsung Nexus 10 – manta
Samsung Infuse 4g – infuse4g
Video:
To download and get to flashing, check out their homepage.
Cheers everyone who recommended Carbon!