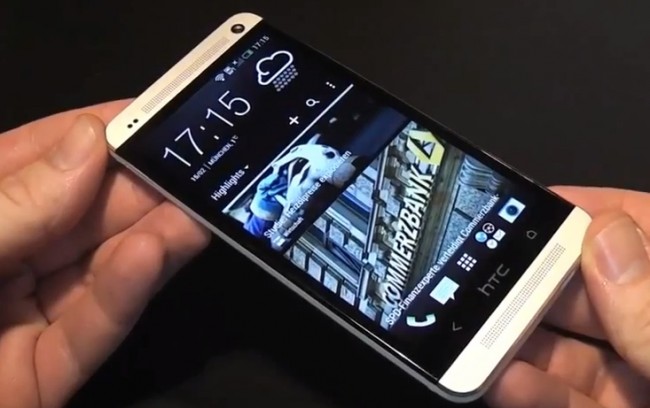 Late last night, the HTC One appeared in a 5-minute long video on YouTube, but was quickly pulled before most of the world was able to see it. Thankfully, a couple of forums were able to grab screenshots from it, so that we could see what HTC will unveil today in New York City and London. 
The device from the front, looks identical to what we have seen in a number of leaked press shots. The back, is showing itself for the first time with an all silver coating, white line accents, a centered camera, and HTC and Beats logos. We can also see a lock switch up top next to a 3.5mm headphone jack. The microUSB charging port appears to be off-centered on the bottom of the device. Up the sides, we have a mix of white and silver accents.
We also got another press render which shows the backside of the black version of the phone. It looks identical to the white/silver, but is black.
Update 4:  The videos all look to be gone now.
Update 3:  And the full video embedded below. To see the new Sense 5.0 in action, jump to the 2:30 mark. It's interesting…to say the least.
http://www.youtube.com/watch?v=511hWbbHgAY
Update 2:  The full video can be seen at +Rupak Dey's page.
Update:  The guys at Phandroid just posted up this quick video, which looks like it may be from the pulled YouTube video in the screenshot up top:
http://www.youtube.com/watch?v=NVcDAc0DhPY
What do you guys think? Liking the design?
[nggallery id=55]
Via:  Mobile01 | No Where Else
Cheers @WinDroidGuy!