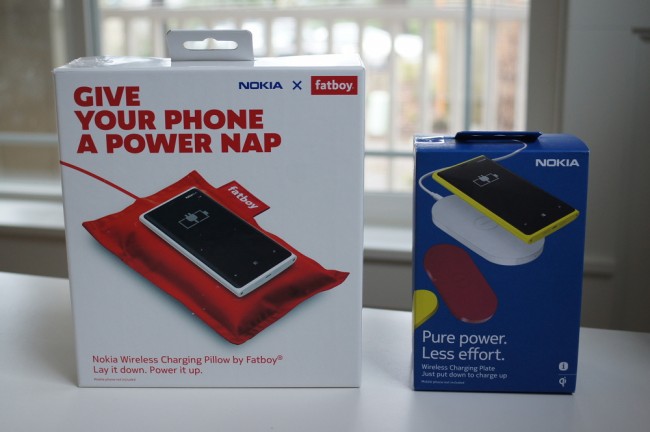 Wireless charging, while slow to have been adopted by the industry, is a technology that once you have, you really never want to live without. Thanks to devices like the Nexus 4 (neither of these work with the N4 after testing), DROID DNA, and Nokia's new Lumia 920 it's becoming more of a standard. But now that it's a little more mainstream, we figured it was time to talk about some of the charging options out there. Thanks to Nokia doing their part to push the technology forward, we have two new options worth taking a look at – the Fatboy Pillow and the charging plate, both from Nokia (both built to the Qi standard, so yes they work with Android phones). 
Update:  A few readers pointed out in the comments that the charging plate and pillow may not work all that well with the Nexus 4. I have not had a chance to fully test their charging abilities, so stay tuned for that. Will report back in a couple of days with my findings.
Update 2:  I ran my battery down to 75% and then tossed my phone back on the charging pad and came up empty. The device attempted to charge and then just kept the phone awake and actually ran battery. The pillow seems to be doing the same thing. For whatever reason, these are either built to some other Qi standard or the Nexus 4 has issues – I'm going with the latter. Feel free to watch the video and gaze at the fancy chargers, however, if you have a Nexus 4, you may want to stay away. Will test the DNA and report back.
Update 3:  Both chargers seem to wirelessly charge the DROID DNA with no issues. Clearly the Nexus 4 just isn't a fan of them.
Nokia Fatboy Charging Pillow
The Fatboy charging pillow is probably going to be the most popular of the wireless chargers released this year, simply because it's a pillow and carriers a fun-to-say name. It's exactly as you would picture it – a big fat pillow that your phone lays on. Inside the pillow you have a soft, squishy outer rim that holds your phone ever-so-softly, while the plate in the middle takes care of the charging business. It has an extra long cord so you can drape it all over a room and still have it reach your destination. It comes in a few colors:  yellow, blue, white, red, and black. You can find it at Verizon and AT&T stores for around $60.
As expected, you simply drop your wireless-ready phone in the middle and it begins to charge. There are no beeps or notifications, so you may want to double check to make sure it's charging before walking away from it.
Nokia Wireless Charging Plate
The charging plate from Nokia is the least sexy of the two, however, it may be my choice if I had to make one. It's small, does the trick, and also comes equipped with the extra long power cable. It also comes in blue, yellow, red, white and black, while retailing for around $50. I favor this over the pillow mostly because of the size. This plate isn't much bigger than a hockey puck, and it's also not a giant fluffy pillow, for those who care about the appearance of their desk.
To charge, you simply lay your phone on it, centered over the Nokia logo. It's that simple. It also has a rear light that notifies you that your phone is charging.
Video