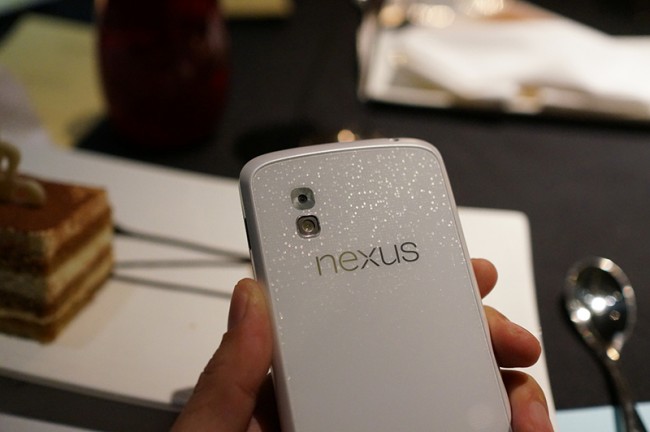 Yesterday, we saw what we believe to be the first ever picture of the white Nexus 4. It featured the Nexus logo, camera, flash, and Crystal Reflection back as one would expect, giving us little reason to assume that it's anything but real. But why have no others surfaced? Well, thankfully another has, via Vietnamese site Tinhte. In a full hands-on gallery at what appears to be a dinner table, we get the best look yet of this pale beauty. 
It's definitely a Nexus 4, there is no doubt about that. Even with a white back, it still sports the Crystal Reflection design that can only be seen at certain angles. The LG and Nexus logos, camera, and flash are all in the right spots. For some reason, though, the volume rocker and lock switch are both black, which sort of takes away from its whiteness.
Other than the back and sides, the front looks identical to the currently available black version. And you know what, that's a thing of beauty, as there is a good chance we'll see replacement part resellers put up these new white backs that can be swapped out with black backs in no time. Don't worry, I've already looked into tearing our current versions apart for white backs and it looks incredibly simple. We're just waiting now for them to be released.
So, what do you think?
Oh, and here is one last shot from a user on Facebook:
Cheers Mike!