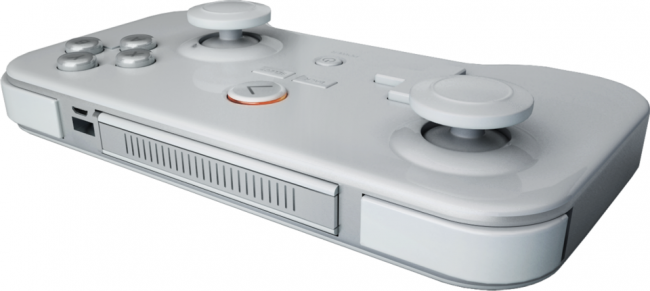 GameStick, the newest overnight Kickstarter-inspired portable Android gaming system sensation, announced today that they have signed off on a new design with the help of feedback from backers. After the initial and much squarer design was received with mixed feelings, this new version of the GameStick looks much more appealing to average and advanced gamers – well, according to its creators. 
Here is what they had to say:
As you will see we have rounded the edges quite a bit so that our controller feels better in the hand. We then lost the groove between the middle section of the controller and the top deck so that it feels smooth all round…we extended the palm grips so that they feel more substantial and also changed the magic ratio between the top and bottom edges, adding 3mm to the leading edge so that the controller sits more naturally in your hand…

We made the D pad rubber so it feels nice to touch and provides good levels of grip. We changed the PLAY buttons to XBYA to make it as easy as possible for developers to port their games. We improved the analog sticks to use full multi-way + switch systems and rubberized the mushroom caps. We support a full a 45 degree tilt angle so that you can very accurately control the games you love to play…
Beyond buttons and rounded edges, the GameStick team is trying to futureproof the device for both Miracast and wireless charging:
We hated the idea of having to keep plugging your controller in to charge it up (although it supports around 40 hours of game play on a single charge) and so we wanted to add a contact based charging system and also to support a full wireless charging solution that could be built in to the GameStick Dock…

At the outset of this project we wanted to be able to power the GameStick from its controller so that you could stream games directly from the controller to any screen that was Miracast enabled…We have been pioneering this work and to lay the foundation we wanted to ensure that our controller was future proof…
So you have a fully revamped controller, one that should be futureproof with next-gen Miracast and wireless technologies. I know we don't seem to be seeing much of a middle ground when it comes to loving or hating these affordable Android gaming systems, but the portability of this one, along with the early dedication from the team to listen to its customers is always a good sign.
New Design
Via:  Kickstarter