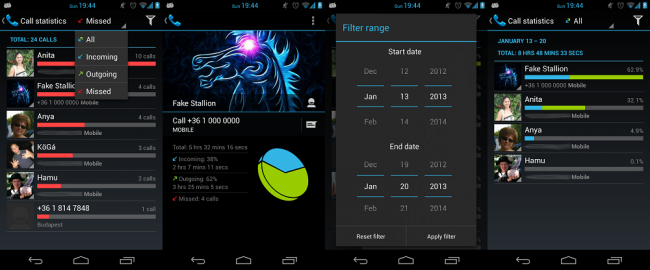 Yesterday, the AOKP team released JB-MR1 Build 2 for their many followers. Inside the newest build, which is built atop Android 4.2.1, are a ton of new features such as enhancements to the boot animation picker, custom NavBar background colors, and a brand new feature called Call Statistics. With Call Stats, you can get an in-depth look at phone usage such as filtering dates, pie charts showing incoming/outgoing usage, and more.
The full list of new features is below. 
New features:
General UI

Boot animation picker enhancements
Colorable clock views/widgets

Lockscreen

Option to hide initial page hints
Start lockscreen with minimized challenge
Longpress on minimized challenge to unlock
Carousel animation

Navigation Bar

Colorable NavBar background
Recents menu opens with lightning speed

Statusbar

Alternative signal layout (GB-style)
New toggle: Sound state (ring/vib/silent)
Mobile technology indicator reflects internet connection status

Camera
Phone

Call statistics – Phone app / local menu
As always, remember to perform a backup before wiping and flashing your new ROM. Download the newest build, here.
Via: AOKP
Cheers Gergely, Kimir, and Nathan!