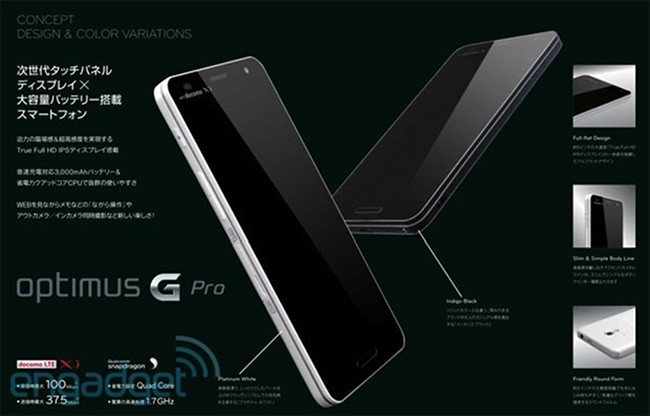 So, we didn't get the new Optimus G2 at CES as had been rumored a number of times. But that may be because the device will actually be called the Optimus G Pro and may arrive a bit later at MWC for all to drool over. According to a leaked slide, the device above is that device, one that will sport a 5″ 1080p display (the standard these days), a beefed up 1.7GHz Snapdragon S4 Pro, 32GB of internal storage, LTE, and a massive 3000mAh battery. The phone will be just 10mm thick, have a 13MP rear camera, and a 2.4MP front shooter. 
Sound enticing? It's like LG's version of the One X and One X+. We won't complain, we just wish it would have arrived at CES so we could have put our slippery little grubbers all over it. We were big fans of the original Optimus G (our review), so we can't imagine this won't get us hot and tingly as well.
Assuming this comes anywhere near the U.S., would you be interested? (Also assuming it came to Verizon, which it may not.)
Via:  Engadget
Cheers Scott and Justin!