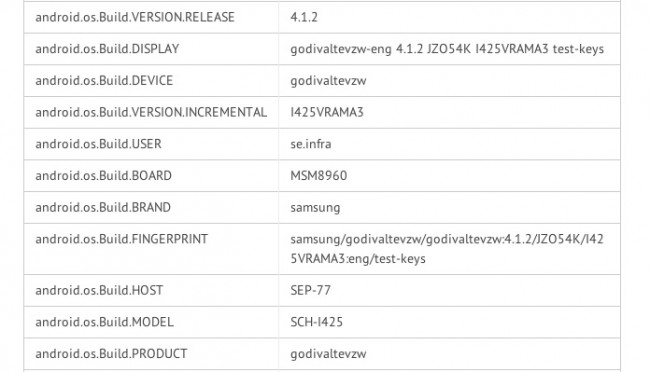 Is the Samsung Stratosphere 3 already in testing? A new benchmark that appeared over at GLBenchmark hints at a device that certainly fits into the model number scheme that Verizon and Samsung have used for their Stratosphere series. 
A phone under the codename "Godiva" and with model number SCH-i425 showed up with a 720p (1280×720) display and dual-core Snapdragon S4 processor. It also has Verizon branding all over the software build, so we're jumping to a bit of a conclusion by giving it the "Stratosphere" name, but not much of one. The original Strato was i405 and the Strato 2 is i415.
It seems a bit odd that Verizon and Samsung would be ready to push out a new Stratosphere device after having just released the Stratosphere 2 in November. Without announcing much at CES, they are going to need Q1 devices, though, so maybe this makes sense after all.
If you were considering the Stratosphere 2 as one of the last phones on the planet with a keyboard, you were probably disappointed in the low end specs. Maybe this new version will be just what you were hoping for, assuming it has a keyboard.
Does a phone with a keyboard still have a place in your heart?
Via:  Ameblo | GLBenchmark