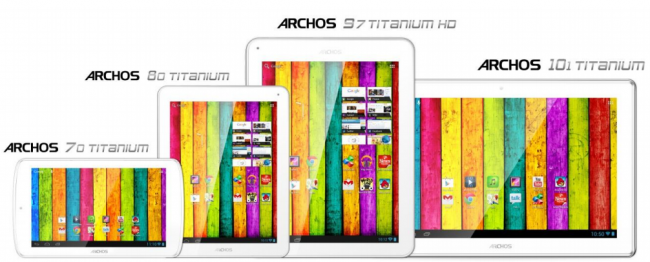 When we crashed the ARCHOS booth at CES to check out their new GamePad, they also showed us their new lineup of Titanium tablets, which actually offered some decent specs on top of good looking hardware. Although, at CES, when you are surrounded by a million other Android tablets, it's hard for some to stand out and actually impress a skeptic. 
There are four tablets in the line, each featuring an HD IPS display, a dual-core 1.6GHz processor coupled with quad-core GPU, Android 4.1, and of course, it's Google certified. They have a 7″, 8″, 10.1″, and a 9.7″ variant, each set at an amazingly competitive price.
For pricing and further details, check the presser down below.
ARCHOS Introduces the New TITANIUM Line at CES 

CES, Las Vegas – January 10, 2013 – ARCHOS, an award-winning innovator in consumer electronics introduces the Titanium line in its Elements range of tablets.

This range offers high-end specifications at an aggressive price and all tablets will feature:

High Definition IPS display capacitive multi-touch screen
Dual core CPU at 1.6 GHz with Quad core GPU, with 1080p video decoding
Sleek aluminum design
Android 4.1 'Jelly Bean' with the 700,000 applications on Google Play and the Archos Media Center applications

The ARCHOS 70 titanium (7 inches), priced at 119€, $119, £99 offers similar features to competitors such as Amazon, at a better price point.

The ARCHOS 80 titanium (8 inches), priced at 169€, $169, £149 has been designed to offer similar user experience as the iPad mini, for a fraction of the price.

The ARCHOS 101 titanium (10.1 inches), priced at 199€, $199, £169, is around 30 per cent cheaper than competition with comparable features.

The ARCHOS 97 titanium HD (9.7 inches), with a resolution up to 2048 x 1536 pixels is priced at 249€, $249 and £199, and aims to be an alternative to the new iPad for half the price.