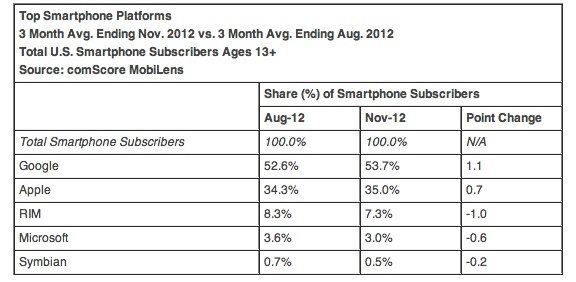 We haven't mentioned many of these reports from marketing firms like comScore over the last few months because they have all painted the same picture for 2 years now. We're talking smartphone operating share in the U.S., something that Android has had a stranglehold over for quite some time. After surging to the front of the pack back in 2010 and 2011, Android has yet to give up any of its share to Apple's iOS or any of the other competing smartphone operating systems. 
As you can see from this most recent comScore report that was conducted over a 3-month period ending in November 2012, Android jumped up 1.1% to 53.7% of the market, while Apple jumped another 0.7% to 35.0%. RIM, Microsoft, and Symbian all continued to drop.
To be fair, the next report of comScore's may paint a slightly different picture, as the iPhone 5 likely had a blast over the holiday season (not that Android didn't). But also, Windows Phone 8 finally went live on a number of handsets at reasonable prices that may have helped Microsoft take back a bit of OS share. A bit, I said, which may even be a stretch.
Can anything happen over the next couple of years to change these numbers?
Via:  comScore