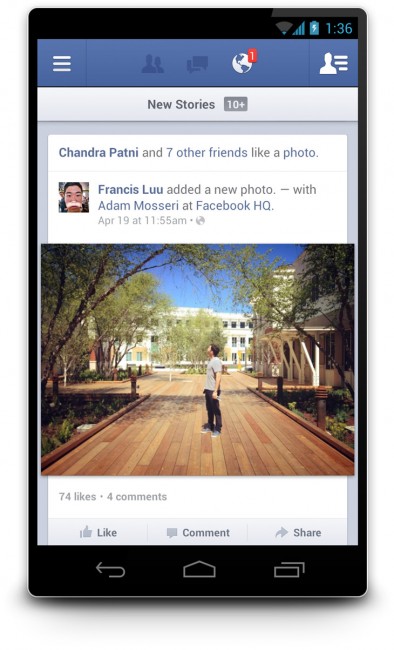 This morning, Facebook has announced that version 2.0 of their Android app is ready for prime time. Built with native code to improve speed and performance, this has been a long time in the making. Load time of the app should now happen much quicker, photos open instantly, your timeline is faster than ever, and the app is more efficient with a smoother UI thanks to a reduction in garbage collection (more at the engineering link below). 
Highlights
Launch the app quickly:  When you're on your phone, nothing matters more than getting what you want quickly. We're always working to make our apps faster, and in this update we've rebuilt news feed, notifications and Timeline for speed.
View photos instantly:  Tap on any photo to open it right away, and scroll through photo albums without leaving news feed
Open Timeline faster:  Go to your Timeline and view updates and photos more quickly than ever.
The app will go live today in the Google Play store.
Update:  Version 2.0 is now live in the Play store.
So, tell us your thoughts?
Via:  Facebook [Engineering Notes]