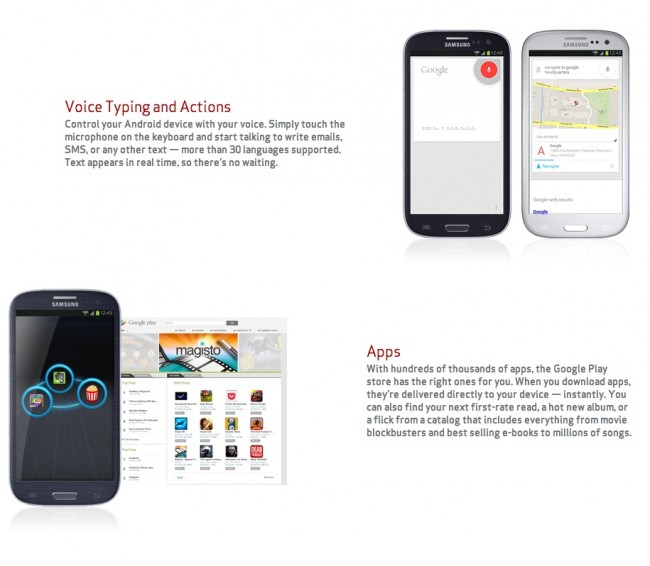 Quick quiz for the Verizon Galaxy S3 owners in the building. What version of Android is Google Now currently only available on? Which version of Android has expandable notifications with quick actions? Which version of Android has the brand new Voice Search with red microphone? Which version of Android hides the the notification bar upon down-swipe, instead showing a clock with date off to the left? Which version of Android is the Galaxy S3 on Verizon currently running? If you answered Jelly Bean to all of those except the last one, you are today's winner. 
Now, someone go tell Verizon that. Because on their landing page for the GS3, they have a series of images spread about that show the device running Jelly Bean (stock in some cases). You can see Google Now cards, the new Voice Search, and all that comes with the new notification pulldown.
As you all know, the official update of Android 4.1 for this phone has not been released yet. An anonymous source told us last week that the final build has been approved and that we could see it by December 14 (this Friday), but Verizon has not made that official yet. After looking at this official page for the phone, it certainly appears as if Verizon is expecting to push the update at any time. No where does it actually mention Jelly Bean, but the proof is the images.
Via:  Verizon
Cheers Christopher Lee!