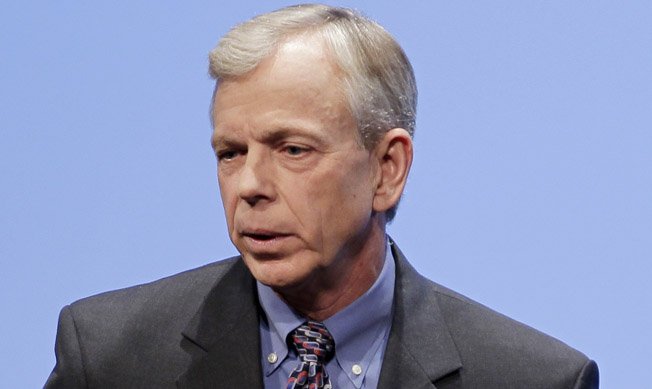 Verizon's CEO, Lowell McAdam, sat down for a brief chat this morning at the UBS Global Media and Communications Conference. During the conversation, he talked about the entire status of the company, from Wireline to Wireless. Clearly, we care about his Wireless quotes, some of which show how far ahead Verizon thinks they are in terms of network and their new shared data plans. 
One quote in particular talks about others in the industry waiting to see with 4G LTE, while Big Red was willing to move forward with the technology from day 1. That early start gave them the massive lead in network coverage they have, today. But as one would expect from a company of this size, they aren't stopping or planning to slow. In fact, while their competitors will eventually come close to matching their network in terms of coverage, McAdam thinks that the company will, by that time, be figuring out what "5G and 6G looks like."
So even if someone catches up quote from a coverage perspective, you have got to catch up from a user experience perspective. And so we are going to hang on to that and we are going to defend that ground. And in the meantime, we are going to try to figure out what 5G and 6G looks like. So there is — it is not like — I know when you do your model you always like to think about okay this is the last evolution. Well, I hope I never see the last evolution in wireless technology. So I believe that we will.
Outside of network talk, McAdam also mentioned the adoption that they are seeing with their new Share Everything plans. As you all know, new customers are forced into these shared data plans, so when we hear talk of positive adoption, we don't necessarily put a lot behind it. With that said, Verizon's chief did mention a big bump on tablet connectivity through these shared plans, saying that people like the idea of adding on for $10, rather than having to fork out the $30 it used to run them.
Just over the holidays as an example, we saw a big tick up in tablet attachments. In the past people were buying them and saying I don't want another account for this. I don't want to have to pay for the unlimited data. I don't know how much I am going to use it. I am just going to stick with Wi-Fi. And we saw a significant shift over Thanksgiving where people were saying just for the $10 access a month, I will go ahead and use that — use the share everything plan.
Nothing super juicy, but for those of you that are living and dying with Verizon, you have to love their confidence in the future of their network.
Via:  Verizon