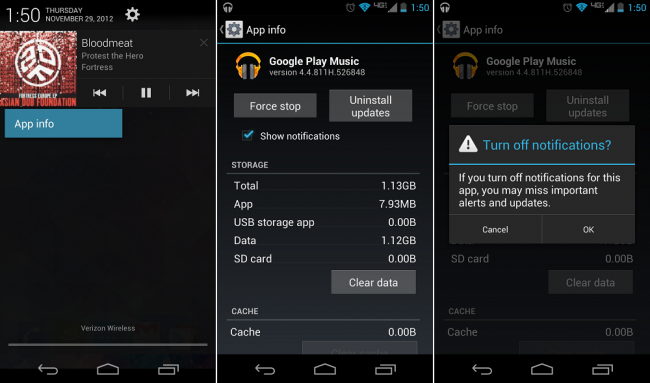 We have received a few requests to create a post explaining how to disable a certain application's notifications. Lately, some apps that are downloaded from Google Play utilize a certain type of advertisement that appears in our notification bar. For some, this is inexcusable and is a complete eye sore. Like them, I feel the same way. Down below we go over just how to get rid of those pesky notifications. 
Above I have used the Google Play Music application strictly as an example of how to complete this task. Applications that you will want to more than likely do this with are apps that use notification advertisements or things of that nature. Whatever the app is, this is how to do it.
Note: The ability to disable an app's notifications is only for devices currently running Android 4.1+ Jelly Bean.
Instructions:
1.  Pull down the notification bar.
2.  Long press the notification until a box appears.
3.  Hit the box that says, "App Info."
4.  Uncheck the box for "Show Notifications."
5.  You can re-enable notifications by re-checking the box.
Alternate:
1.  Open your Settings menu from the homescreen.
2.  Under "Device" head to "Manage Apps."
3.  From here, you can manage any app's notifications without the first set of instructions.
And there you go! No more pesky notifications.
*The rest of the Android Beginners' Guide is a one-stop shop for all of those new to Android.