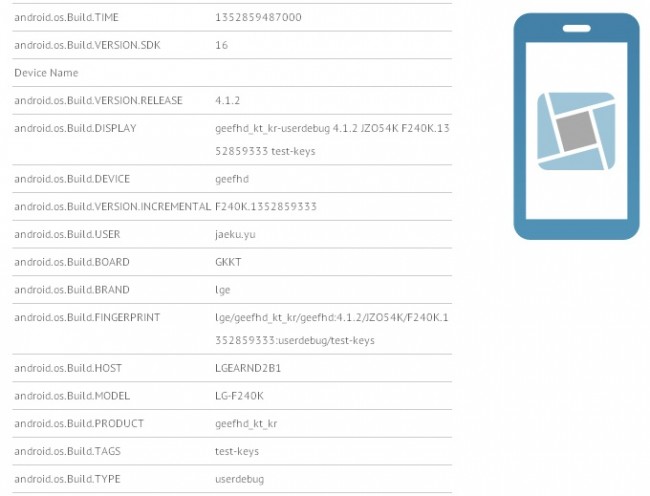 I wouldn't say that we are surprised by this, but according to a benchmark over at GLBenchmark, LG is testing a new smartphone with a 1080p display. HTC already has one in the DROID DNA, Samsung will reportedly unveil their new 1080p HD Super AMOLED displays at CES in January, and Sony has mentioned the idea, so why shouldn't LG join in on the fun? This is where display tech in smartphones is going, after all. 
So what else do we know? We can see a model number of LG-F240K, a codename of "geefhd," and an Android version of 4.1.2. The display resolution is showing as 1920×1080 and the processor  is a quad-core Snapdragon S4 Pro processor clocked at 1.5GHz with an Adreno 320 GPU.
What we don't know is what the device will look like, how big the display will be (5″ makes sense though), and which networks it will run on.
The interesting part of this situation, is the fact that LG already released the Optimus G last month followed by the Nexus 4 this month. Neither sports a 1080p display, but both do sport the same processor as this new phone. I'd hate to call a phone that makes a jump to a 1080p display a "small change," but unless there is a new processor, more RAM, or some new innovation, it sort of is.
Via:  GLBenchmark | Engadget | TechKiddy