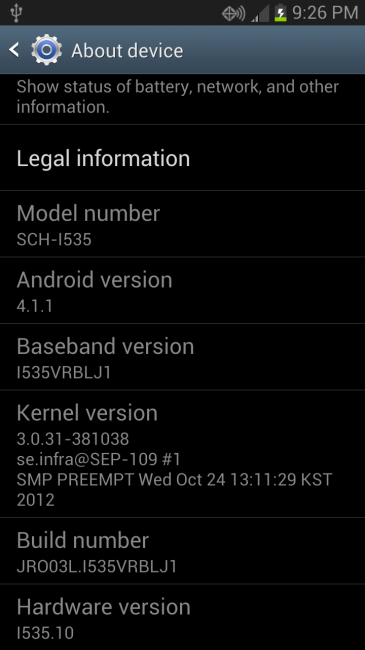 A new Jelly Bean (Android 4.1.1) update for Verizon's version of the Samsung Galaxy S3 leaked yesterday as build VRBLJ1. It's already baked into a ROM or two and an ODIN file. A member of XDA who appears to have leaked it, is under the impression that this may end up as the official OTA update. As you all know, Verizon thoroughly tests each update, so even a minor bug could push it back to Samsung. Basically what I'm saying is, it's not the official update until it hits Verizon's support pages. 
We're still trying to find out what's new, but so far it looks like there is a new radio.
If you want to update to this latest version, hit up the first XDA link below for the ODIN version. The second link takes you to a ROM with both odexed and deodexed versions.
Cheers ItsASamsung, Reuven, and Jimmy!