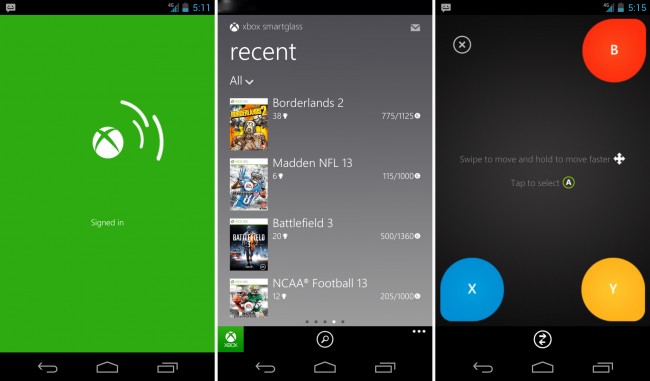 With the launch of Microsoft's Surface this week, the part that gamers were all waiting for was the SmartGlass integration that allowed tablets to interact with your Xbox 360. If you remember during their E3 press conference this year, Microsoft said they would be bringing this integration to Android devices, and today they've started with the release of their application for Android phones. 
Long story short: this application is flat-out awesome. If you have an Android phone and an Xbox 360, there is no reason you shouldn't have this installed. As a stand-alone app it is fantastic, allowing you to sign in and see everything about your profile and your friends that you could see on your console. Check achievements, send messages and even more. That's not even mentioning how smooth and functional the app is at it's core.
Where the application really shines though is when you sync it to your Xbox and use them in unison. Your phone now becomes a remote and you can swipe across the screen to move pages on your TV – buttons show up on your device for easy selecting, and while you're playing music or streaming videos, extra information about the content will show up on your phone.
Down the road, Microsoft plans on making SmartGlass a part of every game. When your device is linked, that extra content will show up on your phone instantly, no downloading necessarily. Personally I cannot wait to see where Microsoft goes with this technology, the possibilities for games are endless. It is worth noting that as far as my list of Android tablets goes, none of them can install the application. Microsoft may look to keep this a phone app only to give you a reason to buy Surface, but who knows.
Are you installing this already? What are your thoughts on this cross-device integration?
Play Link