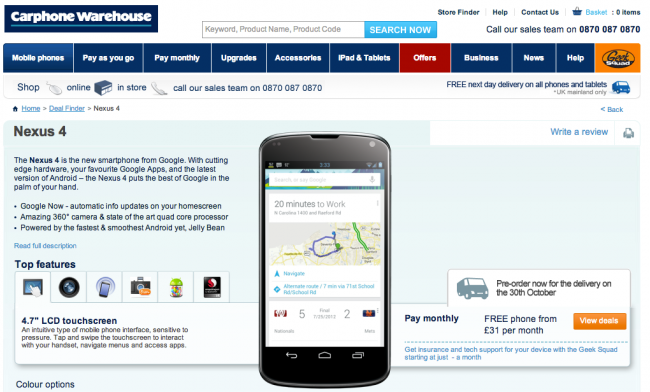 Carphone Warehouse officially outed the LG Nexus 4 this morning. A landing page for the device has been posted, confirming the name, look, version of Android, and every single spec you could imagine. 
According to CW, the device will ship on October 30, which just so happens to be the day after Google unveils the phone in NYC. As you all know, October 29 is the day that Google will take the stage to talk about Android 4.2, which is now confirmed, and this phone. So if CW is right with their date, you could be buying your new Nexus 4 by the time Google leaves the stage.
Aside from a date, we also have confirmation of Android 4.2, which will remain as Jelly Bean. A couple of the new features that Google may show off are hinted at in 360-degree panoramic photos and some sort of "Gesture" typing. Gesture typing is listed as "a faster way of typing that lets you spell words by dragging your finger across the screen from letter to letter." That sounds like Swype, does it not?
Last, we have confirmation on specs:  4.7″ HD display, 8MP camera, quad-core Snapdragon S4 Pro processor, and 8GB of internal storage. No pricing has been revealed.
Mmmhmmm.
Via:  Carphone Warehouse (Page pulled)
Cheers Shawn, Paul and Chris!