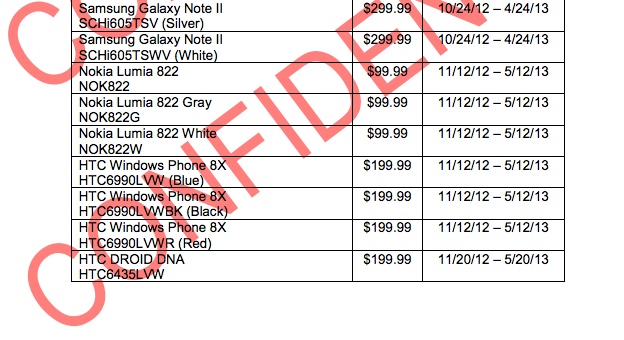 According to Verizon's most recent MAP (minimum advertised price) list, the HTC DLX (the 5″ 1080p phone) may launch as the HTC DROID DNA around November 20. We are under the impression that this is the same phone because of the model number HTC6435LVW, a number that we first reported months ago along with the codename "dlx." 
What's even more interesting than the name, is the price that Big Red has listed. How does $199 on 2-year contract sound for a device with an industry leading 1080p display? The DROID DNA should also sport a quad-core Snapdragon S4 Pro processor, 16GB of internal storage, 2GB RAM, 8MP camera, and run Jelly Bean. By all means, this is one of the most high-end devices we have seen in some time, and is at a level that Verizon usually attaches to a premium $299 price.
The first photos of this device appeared over the weekend, showing one of the sexier Android devices of the last year. A November release matches up to what our sources have been whispering into our inbox over the last few weeks.
On a related note, the Galaxy Note 2 is appearing on this list as well, with a $299 price tag and a potential launch of, today. We know that it isn't launching today, but our sources mentioned yesterday that the device could go up for pre-order as early as tomorrow.
Thoughts on the name? "DROID DNA."