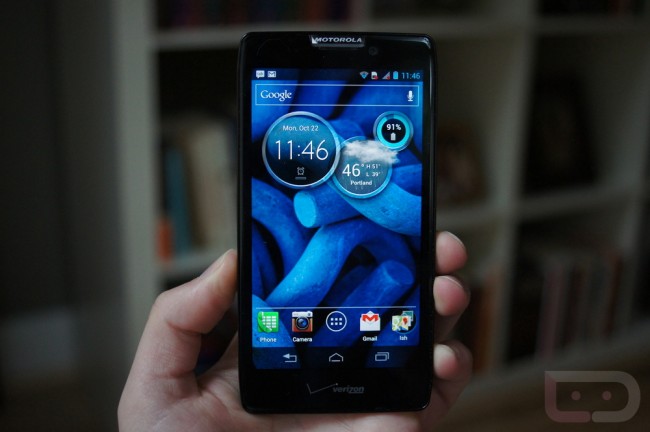 When Motorola first introduced the DROID RAZR HD and RAZR MAXX HD, they coupled the announcement with the idea that this was a "new Motorola." In the front office, it most certainly is new, however, any industry player knows that these phones are the last to be inspired by the old guard. But before we start looking to the future for what's next, we can't look past the new RAZR family, as these are Moto's final works of 2012. Bigger and better displays, long battery lives, and closer-than-ever-to-stock MotoBlur are all a part of the theme. Are they worth your dollar? 
The Good:
Specs:  When a phone has top-tier level specs, we like to call it out first thing, so that you know exactly what you are in for. The RAZR HD and MAXX HD most definitely have better than average specs. They both sport 1.5GHz dual-core Snapdragon S4 processors, 4.7″ HD Super AMOLED displays, 1GB RAM, 8MP rear cameras, 1.3MP front cameras, Verizon's 4G LTE, and massive batteries for best in the business battery life. There may be phones already available and new ones around the corner that have slightly better specs, but these are nothing to be ashamed of. Motorola tried to go high-end with the RAZR HDs and succeeded on paper.
Battery Life:  It's no secret that the #1 selling feature for both the RAZR HD and MAXX HD is how long they can last on a single charge. In fact, when we got our review units, it was the first thing we set out to test. The RAZR HD has a 2530mAh battery, while the RAZR MAXX HD has a whopping 3300mAh battery tucked inside. Even with massive batteries like these, Motorola still managed to keep the devices relatively thin at 8.4mm and 9.3mm, respectively. How did they perform, though? As expected, they are both battery monsters, easily getting you through 10-15 hours on a single charge with the RAZR HD and much longer than that with the MAXX HD. At no time did I ever have to worry about plugging either phone in during the day. In fact, I found myself religiously checking the MAXX HD's life, because it seemed like it should have been dead hours ago. I actually had the MAXX HD top out at 1 day, 10 hours and 47 minutes before I decided to plug it in, as it finally hit me with my first "under 15%" warning. You can see battery results screenshots below.
Design, Build and Feel:  Motorola definitely has its own unique take on how a smartphone should look. It also knows exactly what it should be made of and feel like. No device is a better example of their style than the RAZR HD. With a soft-touch kevlar backing, metal banding around the outside, sharp-yet-rounded corners and edges, and big black face plate on the front, these phones are beyond removed from the "cheap" plastics used by many of their competitors. The RAZR HD is industrial, yet soft and stylish, and feels great in hand. It also feels like a phone that could be dropped a couple of times and survive. I actually face dropped it onto my hardwood floors and it came away unscathed. Overall, this phone reminds me a lot of the last year or so of Motorola phones, but kicked up a notch on the refinement level.
Display:  The 4.7″ HD Super AMOLED display on the RAZR HD and MAXX HD is a solid HD display. After having the LG Optimus G for a couple of weeks with its HD IPS+ LCD, I would be lying if I said that the RAZR HD's came even close to that device. However, it's still HD, brings the colorful ambiance that is a Super AMOLED, and looks great while watching videos or thumbing through a recent batch of pictures. It has a PenTile pixel arrangement, something we normally can't stand. But at this point in the HD display game, there are so many pixels per inch that the naked eye won't be able to pick this up. You'll see the shared pixels in our macro shots below, but don't take that as a knock against the display. Like I said earlier, it's a solid HD display even if it isn't the best in the business.
(Click for larger images)
Performance:  Thanks to the dual-core Snapdragon S4 processor and 1GB of RAM, neither phone has any problems on the performance front. Sure, they aren't rockin' out with quad-cores or 2GB of RAM like many of their competitors' new phones, but they still hum along nicely. I do run into slight jitters here or there when accessing some menus. Overall though, I was very pleased with performance. Both the RAZR HD and MAXX HD can compete with most of today's high-end phones.
Notification LED:  One of my favorite features on the RAZR HD is the massive notification light under the front speaker grill. It's multi-colored, and manages to glow wider than almost any other notification light in the business. It seems silly to be so excited over something so small, but this is one area where Motorola really hit it out of the park. Using an app like Light Flow, you can turn this light from light blue to green to purple to yellow depending on the application that wants to use it. Check out the video below to see it in action.
Speaker:  I'm now a major Motorola speaker fanboy. The external speaker on the backside of the RAZR HD is hands-down, the best speaker in the business. When watching videos, listening to music, and playing games, it almost sounds like surround sound. It's incredibly loud and clear, and makes any situation that requires sound, so much more enjoyable. If there was one knock against it, it's that the notifications are almost so loud and violent, that they come off a bit distorted at times. Seriously though, this speaker is awesome.
Custom UI:  Motorola came out a week ago and admitted that they are trying to make their custom Android skin as close to being stock Android as possible. Unfortunately, carriers want skins to differentiate between phones, but that hasn't stopped Motorola from keeping theirs super minimal. As you can see in the pictures below, MotoBlur (yes, I'm still calling it that) looks fairly close to stock, with subtle accents or OS design tweaks here or there. The lock screen has been tweaked to provide more options up front, there is a fancy new 3-circle clock widget front and center, home screens are added 1-by-1, the app drawer is minimal with an added "Favorites" panel, and the settings menu is only colored differently. My favorite new Blur feature has got to be the Quick Settings panel that can be accessed with a swipe to the left from your main home screen. Rather than cluttering the notifications pulldown, Motorola went a different direction by giving these options their own hidden page, a move I fully endorse.
Jelly Bean Updates:  Motorola, under new Google leadership, is all about Android updates. In fact, when they announced the new RAZR family, CEO Dennis Woodside said that the RAZR M, RAZR HD, and MAXX HD would all receive Jelly Bean (Android 4.1) before the end of 2012. For those keeping track, that's a major update from what they were released with in about 2 months time. It would have been nice to see them launch with the latest and greatest in Android, but we'll take a holiday update.
On-screen Navigation Keys:  Thanks to Motorola trying to stick as close to stock Android as possible, they are one of the few phone manufacturers to adopt on-screen navigation keys. I personally enjoy them because they eliminate the need to add room onto the chin of a phone for hardware navigation keys. But going forward, with Jelly Bean, they also allow for easy access to Google Now at any time and any place with the simple swipe up of the home button, something you will never be able to do with a phone that doesn't have on-screen navigation keys.
Verizon's 4G LTE:  Verizon's 4G LTE network covers more than 400 markets and over 200 million people at the time of me writing this review. By the time you get done reading it, I wouldn't be surprised if another dozen markets were lit up. The rollout of their's has been remarkable. The RAZR HD, thanks to its LTE radio, gets to take full nationwide advantage of it.
Developer Edition:  Motorola is aware that there are tinkerer and developer communities out there that want to do more with their phones. They want to install custom software, remove bloatware, and feel like they fully own a device they just paid hundreds of dollars for. To appease this crowd, Motorola released the DROID RAZR HD Developer Edition. This phone can only be purchased through Motorola directly and at full retail, which means you'll have to fork out $599 to have full Android freedom. Hey, at least you have an option, right?
The Not-so-Good:
Camera:  I haven't had any luck with the 8MP rear camera on either the RAZR HD or RAZR MAXX HD. I'm sort of left wondering if it's a software issue rather than a sensor issue, though. Pictures come out fine at times (I lied, and really meant rarely), but mostly, they are a noisy and blurry mess. The camera app darkens or lightens sporadically to extremes, sometimes in the same location and under the same lighting. It's almost always inconsistent in some way or another. I feel like these same issues have plagued Motorola phones for years now. Hopefully now that Google is in charge, there will be a bigger focus on creating software that produces great stills. Oh wait, stock Android's camera software is awful as well – probably won't be holding out hope, after all. Here are some samples.
MAXX Price:  Let's be perfectly honest here, there should not be two different RAZR HD models. There should be one phone called the RAZR HD, and it should match up exactly to what the RAZR MAXX HD is. The price of $299 for the MAXX version is a bit ridiculous, knowing that you are only getting a battery with an extra 800mAh, along with 16GB of extra internal storage. This was clearly a marketing move, but it sucks for consumers. The Galaxy Note 2 will likely drop in at $299 as well, yet it has a bigger, more advanced, and beautiful display, the same amount of storage, has twice the RAM, and includes a special pen. Poor move here, something that was probably forced by Verizon after seeing the success of the original RAZR MAXX.
Bloatware:  I came up with 17 bloatware apps that have been preinstalled by Verizon. In their last couple of phones, these weren't as much of a sore spot because you could go in and disable or uninstall most, thanks to Ice Cream Sandwich. Unfortunately, Verizon and their partners have decided that they don't want you doing that any longer, and have made most of these apps permanent fixtures.
Gallery:
RAZR HD
[nggallery id=8]
RAZR MAXX HD
[nggallery id=10]
RAZR HD vs. RAZR MAXX HD
[nggallery id=11]
Video Overview:
RAZR HD
RAZR MAXX HD vs. RAZR HD
The Verdict:
Motorola has done a great job with the RAZR HD and RAZR MAXX HD of creating a phone with high-end specs (for the most part) and industry leading battery life. If you are the type of consumer that finds yourself without access to an outlet or charger for much of a day, these would probably be your best options. While testing the MAXX HD, I was able to cruise into a second day of normal use with plenty of battery to spare. Motorola appears to have listened to consumers when it comes to performance and all-day-usage.
It's not all high scores for the new RAZRs, though. Motorola's competitors are all ready to introduce the future of smartphones over the next couple of months, which means doubling of RAM, moving onto quad-core processors, and even better display tech. While the RAZR HDs have nothing to be ashamed of, they don't necessarily even top the Galaxy S3, a phone that was introduced 3 months ago.
I will say, that while reviewing both phones, I ran into very little issues. In fact, these phones very much feel like some of the more complete smartphones I have used in some time. Aside from the camera not living up to my quirky standards, you really can't go wrong here – unless of course, you find yourself always wanting the best of the best, which should be here over the next month.