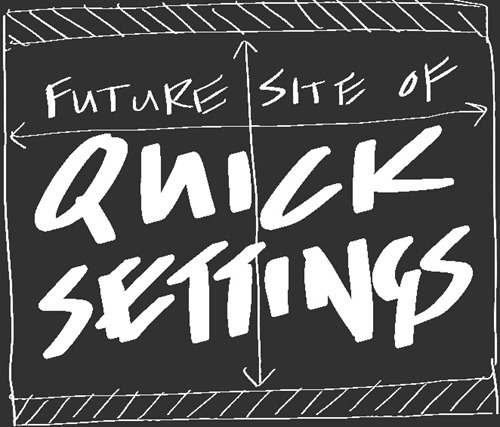 Is Google looking to introduce a second notification menu in Android 4.2 that will contain quick settings? According to the video below, purportedly from from an LG Nexus 4 running Android 4.2, the build has a second pulldown menu with a placeholder image that reads "Future Site of Quick Settings." Yep, it's the picture you are seeing above.
To access it, you will have to swipe down your main notification menu, followed by a second swipe down from your notification bar. The quick settings menu should then overlap your main notifications menu, giving you access to toggles for WiFi, Bluetooth, Airplane mode, etc. It's actually a brilliant idea, but as you'll see in the video, there are no quick settings there yet, just the placeholder image. 
What do you guys think? Great idea? Horrible idea? Too confusing? "Finally!"?
And what does this mean for Android 4.2? If the LG Nexus 4 is supposed to be here in a couple of weeks, is it going to launch with new software or not? Since this new menu is far from finished, maybe the device will launch with Android 4.1.2 and will receive an update shortly thereafter to 4.2?
Via:  Android Police