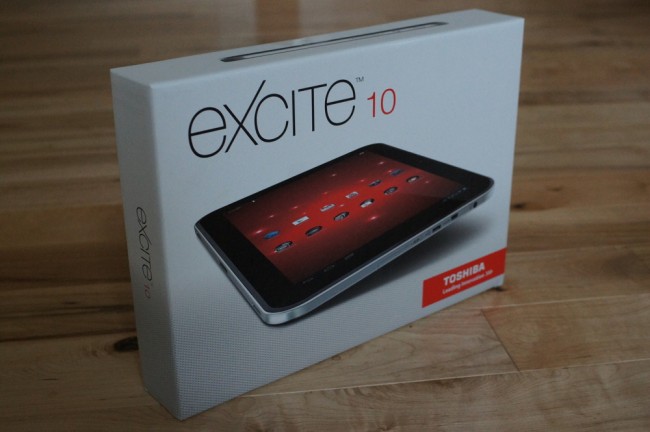 Day 3 of Reader Appreciation Week is here! On day 1, we gave away a Nexus 7. Yesterday, we gave away an HTC One X. Today, well, let's go big (as in screen size) and hook someone up with a Toshiba Excite 10. While we may not have given the Excite 10 a ton of love as it arrived during a time when 10″ tablets were flooding the market and rarely stood out from one another, it's safe to say that this device is no slouch. Thanks to its Tegra 3 quad-core processor, 1GB RAM, 10.1″ Autobrite Gorilla Glass display, dual cameras, and variety of ports (including a full sized SD card slot), it matches up nicely to most tablets in the industry on paper.
Who wants one?  
Contest
Update: We have our winner! Thanks to everyone that has entered. We still have two days left of goodies!
Prize:  1 (one) Toshiba Excite 10 tablet
How to enter:
1.  In the comments, tell us what your favorite Android device of all time is, and why.
2.  Feel free to share the contest post on your favorite social network.
3.  Here is a Tweet that we would love to see you share:
Follow @droid_life and @NVIDIATegra to win a Toshiba Excite 10 tablet!  http://bit.ly/UVQrQ2 #android #contest #raw
4.  Also, follow us on Twitter, Google+, and Facebook if you aren't already.
Winner:
Tomorrow (9/27) at 9:00AM PT, we will randomly choose a winner from the comments.
A big "Thanks!" again goes out to NVIDIA for putting up so many amazing prizes this week, including the Toshiba Excite 10. Be sure to check out the Tegra Zone for all of your gaming needs.
Good luck!