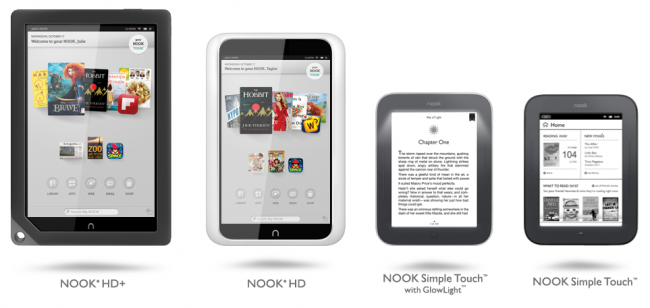 This morning, Barnes & Noble released their newest lineup of Nook tablets, not to be out shined by Amazon's Kindle lineup. Leading the pack is their new Nook HD+ and Nook HD slates, which sport full HD displays and some pretty impressive specs to boot. The Nook HD+ sports a 9″ display at 1920 x 1280 resolution, 256 ppi, and is powered by a 1.5GHz OMAP 4470 processor, while the Nook HD is a 7″ 1440 x 900, 243 ppi, with the same chipset.
To maintain competitiveness. the newest Nook devices are also being sold for the same reasonable prices, but with a twist. For 16GB, the Nook HD+ runs $269 and for 32GB it receives a minor bump up to $299. As for the Nook HD, the 8GB variant can be purchased for the industry standard of $199 and $229 for the 16GB brother, which will surely have some people second guessing a Nexus 7 or Kindle Fire HD purchase. As an added bonus, each of these HD tablets sport a micro-SD card slot for even more storage.
The devices are already up for pre-order and buyers can expect to see the tablets arrive at their doorsteps this November.
Nook HD Gallery:
Nook HD+ Gallery:
Hands-on with the Nook HD and HD+ from The Verge:
Via: Barnes & Noble