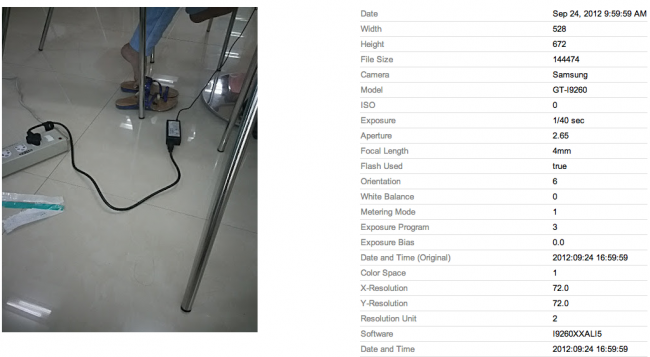 The GT-i9260 could potentially be the Samsung Galaxy Nexus 2. Since the original Galaxy Nexus rolls with the model number GT-i9250, it would make sense that the next version of it would jump up in numbering sequence. To add to that thought, remember that Samsung almost always keeps follow-up phones on a similar model number scheme, much like we have seen with the Galaxy S (i9000) to S2 (i9100) to S3 (i9300). 
So if the the GT-i9260 is the new Galaxy Nexus, then the first photos taken with it have been uploaded to Picasa. No real information is given other than the f/2.65 aperture and 4mm focal length. The pictures are most definitely not taken at full resolution, so it's tough to tell if this will be an upgraded 8MP camera or not.
In one of the photos, we do have someone using a Samsung laptop and the mention of Bluetooth on a spreadsheet, but that could be a coincidence and not phone related. In the past though, Picasa has been a great source to find the first mentions of unreleased phones.
Other than random rumors, we know nothing about this phone. Most are expecting it to look almost identical to the original Galaxy Nexus, but with an upgraded 4.65″ display, more RAM, and a better processor.
If there is indeed a Galaxy Nexus 2, are you interested?
Via:  Picasa | DroidDog