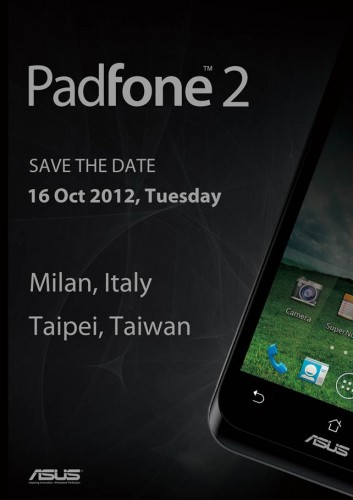 This morning, ASUS has sent out invitations to the press and industry affiliates for them to book their flights over to Taipei, Taiwan and Milan, Italy for the unveiling of the Padfone 2. Unlike some companies, ASUS isn't trying make this a secret and even has a corner of the device on display in the invitation.
Except for that image above, there are no confirmed specs or even really that many rumored specs to speak of. The only small piece of info out there was a benchmark that showed a Snapdragon S4 processor and 2GB of RAM. But, that's just a benchmark and isn't much to go on. 
Much like the original Padfone, we can most likely plan on this not making its way to the States due to carriers showing little interest in this hybrid phone/tablet device. Even more unsettling is that I won't be able to attend since it's all the way in Taiwan and Italy. Come on, ASUS. Sad face.