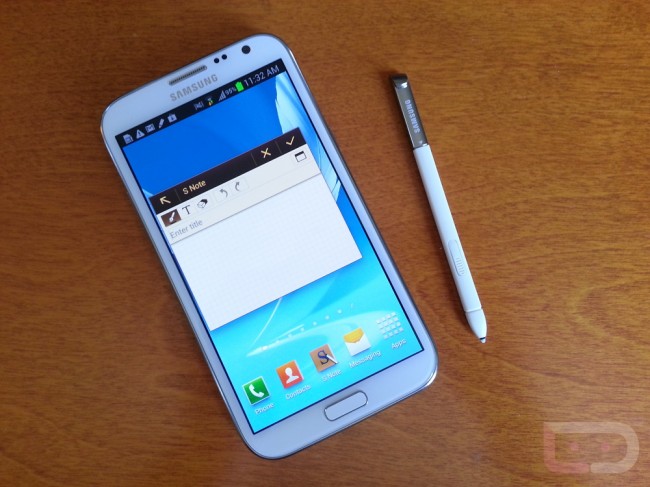 I was unable to attend Samsung's IFA press event in Berlin a couple of weeks back where they unveiled the international Galaxy Note 2, but thankfully, they gave me some hands-on time with it this week to share with the DL community. They still aren't ready to announce U.S. info, however, there have been enough leaks over the last week or so to give us some sort of an idea as to what the future holds. Until we get to that point though, we can at least talk about the international variant, the form factor, some of the new software tweaks that have been included, and the fact that the display is no longer PenTile. 
Form Factor
When I look at or hold the Galaxy Note 2, I think of it as a giant Galaxy S3. It has the same styling, button arrangement, and color scheme – it just rocks out with a bigger 5.5″ display. When holding, you most definitely need two hands to use it. But you should know that going in. It's light enough without feeling cheap, is probably still pocketable for most people, and really is one of the more unique ideas in mobile.
The biggest hurdle here, is deciding if this big of a phone is needed in your life. 10 million people decided that the original Note was worthy, and since this phone is improved by miles over that device, I'd say at least that many will jump to this one as well. Will you?
Software
All of our favorite features from the Galaxy S3 have been carried over to the Note 2 – the sharing, camera software, and speed. But beyond the Share Shot and Pop-up Play, Samsung really focused on making the S Pen experience more fluid and feature-rich. Navigating with the S Pen is as easy as drawing quick symbols and a new hover technology essentially turns it into a mouse. You'll see some of these new goodies in the video down below.
Oh, the Note 2 will also ship with Jelly Bean and Samsung's latest TouchWiz.
Bye Bye PenTile
In my meeting with Samsung, there was one little side note that really stood out to me and it had to do with the Note 2's display. They mentioned that this display is the next generation of their Super AMOLED tech, meaning it's improved even over the Galaxy S3 display. They aren't ready to call it an "HD Super AMOLED Plus" yet, but they did mention that it is not a PenTile display and that there are no shared pixels. Samsung said that it isn't quite a full RGB Stripe, hence the reason for leaving off the "Plus." I didn't have my camera with me or I would have snapped a macro, so we'll have to take their word for it. Great news though, right?
Overall
My time with the device was limited, but I can see how the 5.5″ form factor could be appealing to some. The new S Pen is actually useful these days, gaming or watching movies would be a blast, and the idea of not having to carry a tablet ever again is an intriguing one. I'll have more time in the near future with the Note 2 to form full opinions, but so far, I've been trying to talk myself into why I need a device this big.
Gallery
Video