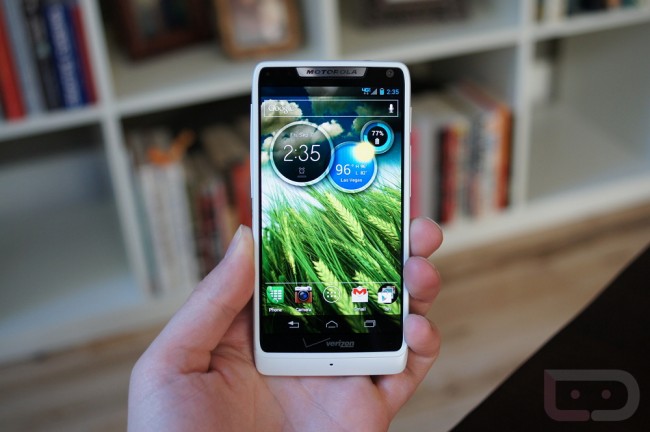 The DROID RAZR M by Motorola was introduced last week as a mid-range device with, for the most part, top tier specs on Verizon. It sports an "edge-to-edge" display, dual-core processor, and Ice Cream Sandwich in one of the smaller packages we have seen in some time. Motorola was trying to give this phone something new by keeping the display itself big, but shrinking down the phone to make it much more manageable in one hand. They succeeded and then some. I may as well admit it now, that I'm a big fan of this phone even if the display is only qHD. Let's talk about it. 
The Good:
Form Factor:  Even if Motorola doesn't sell 10 million RAZR Ms, they have a winner in my book. Their vision of an edge-to-edge display is something I am 100% on-board with. When you pick up the RAZR M, you immediately notice how small it feels when compared to other devices like the Galaxy S3, but once you turn the screen on, none of that will matter. Since there is very little bezel, and Moto managed to toss in a 4.3″ display while keeping the overall package small, it doesn't feel like you are holding a tank or two-handed device. It's easy to navigate this phone with one hand. After making this my daily phone for the last 4 or 5 days, it has been difficult to pick up anything else without saying, "Damn these other phones are huge." I also like it that the RAZR M doesn't feel like Moto flattened or squashed the device just for the sake of saying, "Look how thin this is, even if it is the widest device on Earth!" Yes, I'm talking about the original RAZR.
Specs:  Aside from the RAZR M having a qHD display, the rest of its insides are top notch on paper. The 1.5GHz dual-core Snapdragon S4 is efficient and powerful. The 8GB of on-board storage with expandable microSD slot gives you all of the space you could ask for. The 1GB of RAM doesn't match the 2GB in the Galaxy S3, but should be enough for almost any average user. The 8MP camera sucks, but hey, at least it's 8MP? It also has a 4G LTE radio so that it can connect to Verizon's ever-growing network. The RAZR M doesn't break ground on the spec front, but it also isn't falling behind.
Battery Life:  The 2000mAh battery inside the RAZR M coupled with a 1.5GHz dual-core Snapdragon S4 processor seems like a match made in heaven. Well, almost anything does with this processor, however, this phone seems insanely good with this combo. I have two screenshots to talk about below that have led me to this conclusion. The first one on the left is the RAZR M after I took it through a standard day of checking emails, Twitter, snapping a few photos, making a few phone calls, listening to some music, keeping WiFi off, and not doing anything that would completely hammer on battery life (like gaming or video streaming). As you can see, a full day of use was not an issue. The screenshot on the right is day of travel and over an hour straight of Granny Smith domination with Google Music playing in the background while on a plane. I still had 33% left and probably could have made it through the rest of the day if I needed to. Now, with my Galaxy Nexus, should I have played over an hour of any game with music streaming in the background, I would have been dying to find the nearest outlet so that I could toss some juice into it. This phone is incredibly efficient.
Display:  I've been hard on qHD displays for almost 2 years now, but I've got to admit that this qHD display on the RAZR M isn't bothering me like others have in the past. It could be that Motorola selected the perfect set of wallpapers to show off color pops that distract me from picking out pixels or maybe, the fact that there isn't blurring and ghosting at every turn like on the Incredible 4G and other qHD devices, that has me feeling good. Viewing angles are great, it gets plenty bright, and the size really does feel nice for such a small framed phone. Colors are vibrant since it's an AMOLED and sensitivity is as good as any display I have touched in a while.
Performance:  The RAZR M has been a pleasure to use because Motorola has apparently fine-tuned their custom OEM skin since the Atrix HD, which runs a similar build. There are stutters or hiccups here and there, but for the most part, this phone flies, thanks to the Snapdragon S4 processor inside. We aren't usually that big on benchmarks, but to visually give you an idea as to how this phone stacks up to the competition, we thought we would include a couple (Yes, it topped the list in Quadrant.). For a $99 phone, you can't help but be impressed. It's not perfect, but the few hiccups I saw can all be fixed by software updates in the future, which new Motorola CEO Dennis Woodside told us would be here before the end of the year.
Price:  If you don't have $200 to spend on a phone, you should buy the RAZR M. At $99, it almost seems like you are robbing someone. The Incredible 4G, which doesn't even stack up to this phone on any level other than the camera, is $149. Motorola's new direction involves pricing phones in areas that can reach massive amounts of consumers, something the price point for the RAZR M clearly demonstrates. It's a bargain-bin price for one of the better phones of 2012.
4G LTE:  LTE is standard in all Verizon smartphones these days, so it's no surprise that the RAZR M has been taking full advantage of the network while I've had it in my possession. Unlike some of Verizon's previously released LTE phones, this one has no problem holding a signal. I've spent time in airports, between cities, on trains and in low coverage areas over the last few days and rarely ran into a lack of signal. If I left a coverage area, connection was quickly restored moments after returning to one. You see DL readers rave about Motorola radios in the comments on posts throughout each day, and there is a reason for it.
Blur:  During my Atrix HD review, I had mostly positive things to say about the direction of Blur. In fact, I still think this is the best version of Blur yet. With that said, Motorola needs to find a style or layout and stick to it for a while. This version of Blur is completely different than the ICS Blur we saw hit the original RAZR. We like innovation, but let's try to find something we can build off of without having to completely flip the switch and start over. Likes:  In this new build, you can swipe left and find a new notifications panel which I really like. It's a much better way to display this info than through the pull down menu. After that, you can swipe right to get to other home screens which don't exist right off the bat. You have to add them by either choosing from a Moto pre-set layout or a blank screen. I can't help but also admit that I really like how close this is to stock Android. Dislikes:  I am sad to see them already eliminate the quick preview windows that were included in the Atrix HD's build, though. For certain apps like Phone or Contacts, you could swipe up on the icon and see a preview of information. It was handy, to say the least, but it's now gone in this new version of Blur.
Jelly Bean Soon:  During the announcement of the RAZR M, Motorola announced that Jelly Bean would be available as an update before the end of the year. If you looked at a calendar, that only gives them a little over 3 months. They must feel confident in the process because it took them 8 or 9 months to get Ice Cream Sandwich out.
Developer Edition:  Motorola is trying to win over customers again after pissing them off for the last 2 years. In order to do that, they feel that they need to win back the developer community, by releasing "developer edition" phones. While these are a great gesture and idea in principal, very few will likely buy these as they can only be purchased off contract at full retail and likely without much of a warranty. Thanks for the option, I guess.
On-screen Navigation Keys:  Motorola is one of the few Android OEMs to adopt on-screen navigation keys, something that Google first introduced with the Galaxy Nexus last year. It's no surprise that Moto has gone this route, since they are owned by Google and all, but since we have seen other manufacturers continue to use hardware buttons, we need to give Moto props. On-screen navigation keys will allow for a better Jelly Bean experience while also allowing for a smaller device profile and more screen real estate.
The Not-so-Good:
Style:  Look, I'm a fan of the front of this device along with the industrial accents on the sides, but Motorola, it's time to do away with the cheesy kevlar backing. Every time I flip this phone over, I cringe. The kevlar really serves no purpose other than as a talking point during sales pitches. This phone, for the most part, looks like a step in a new design direction for Moto, until you get to the back. It was a fun gimmick while it lasted, but let's go ahead and turn the page to something new, shall we?
Display:  OK, as much as I can handle the display on the RAZR M, it still is a qHD PenTile display. If you use Motorola's wallpapers, you may come away thinking this is one of the better displays ever made, however, if you change it up and throw on something a little more subtle and less vibrant, you will immediately see text becoming less clear with pixels shining through. And no, it didn't take a blown up macro shot for me to be able to see this, I am simply showing you this picture so that you can see the display technology at work. I wouldn't consider this display to be a deal breaker, but just know that even if it is "edge-to-edge," that it's not as good many others on the market. Then again, you are only paying$99 for it.
Camera:  I have been disappointed with the 8MP camera in the RAZR M. It seems to adjust lighting at freakish rates even when it doesn't need to, leading to below average stills. Pictures with controlled lighting also rarely seem to come out as clear as you would expect. I was able to capture some decent outside shots in the sun, but anything inside turned out noisy and plain bad. I figure the camera is probably the same sensor that we saw in the original RAZR, however, it doesn't come close to performing like it.
Bootloader:  The bootloader on the RAZR M that you will buy from Verizon for $99 is going to be locked down. This means hacking is going to be a pain in the rear, unless you want to fork out $549 and buy the developer edition directly from Motorola. Verizon will continue to come up with excuses as to why they are locking down their phones from the "hackers and tinkerers" that even Motorola has realized are important, and we will continue to tell them how wrong they are. Verizon, you are wrong, again.
Bloatware:  My official bloatware count reached 23 on the RAZR M. Now that Verizon has partnered with Amazon, their suite of apps easily adds 6 or 7 to Big Red's ever-growing list. They also aren't letting you uninstall these anymore, so if you want them gone from your app drawer, you have to go into Settings>Apps>All and disable them. This new Amazon partnership is definitely a step in the wrong direction in the battle of bloatware.
Unboxing and First Look:
Gallery:
The Verdict:
As I mentioned earlier, I'm a huge fan of the DROID RAZR M. The form factor with the edge-to-edge display has been a treat. You still get a big beautiful screen, but without the extra baggage that normally comes with one. At $99, the price seems more-than-reasonable, especially when you consider that it packs many of the same specs that high-end phones are launching with these days. The RAZR M is a great option for those who have been frustrated by the mega-phone movement.