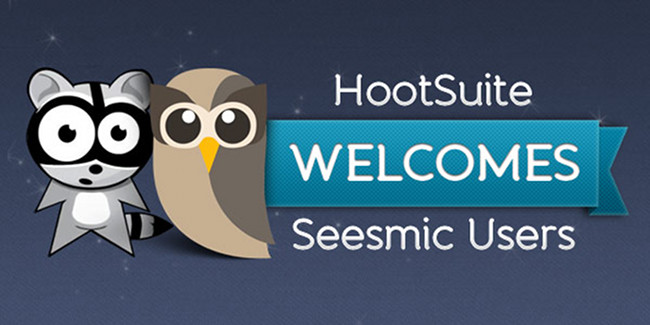 This morning, Seesmic announced that it had been acquired by fellow Twitter client, Hootsuite. Seesmic has always been a pioneer in the Android Twitter game. At one time, they were the go-to client. To see them join forces with Hootsuite, my favorite Twitter client of the last 4 or 5 years, this should only mean that amazing updates and features will be on the way. Hootsuite has mentioned that they have experienced recent "hyper-growth," which apparently means that others are seeing the light. 
Here is the statement from Seesmic:
We are thrilled to announce today that Seesmic has been acquired by HootSuite. Seesmic and HootSuite have long shared a vision for the future of social media management and after years of friendly competition, have developed a mutual respect for one another. We care deeply about you, our users, and believe that this is the best possible outcome in what has been an exciting run together.

We would like to thank everyone involved with Seesmic since its launch, it has been an incredible ride and we are very thankful for all the support and passion you shared with us.

Like Seesmic, Hootsuite offers a suite of social media management tools, with even more options for small business and enterprise customers. Initially, support for both products will continue, however we will soon be bringing everyone into one great platform. We're working on ways to make the transition as smooth as possible so keep an eye out for updates.
And a brief statement from Hootsuite CEO Ryan Holmes:
"I have always had a lot of respect for Seesmic's CEO, Loïc Le Meur and the role Seesmic has played in advancing social business. We are thrilled to welcome Seesmic's users into the HootSuite family."
For those new to Hootsuite, think of it as the ultimate power Twitter tool. It was column-based long before all of these new Holo themed Twitter clients that continue to pop up on a weekly basis, yet seem to be missing every useful feature on Earth. You can use it in browser on a PC, but then carry over your work to an Android device without missing a beat. It allows for multiple users in an organization (basically a team setting), can give you analytics, and lets you manage multiple Twitter profiles. I'm telling you, it's awesome.
Current Seesmic users will continue to have access to the app for now, but eventually, you will either have to merge in with Hootsuite or find another Twitter client.
Via:  Seesmic