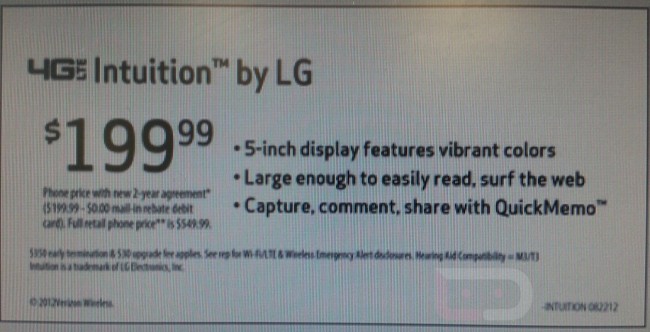 It's no secret that Verizon has plans to introduce LG's big ol' Optimus Vu here in the States. After all, it already cruised through the FCC, showed up in the wild in an entire gallery of pictures, and was outed as arriving this quarter in an LG press release. Today, we received additional info to add to that pile of evidence.
According to our sources, the Optimus Vu will change to the LG Intuition when Verizon announces it in the coming weeks. Once available, you will be able to pick one up for $199 on new 2-year contract or $549 at full retail.
With its 5″ display, this will be the first mega-phone to be released on Verizon, you know, since they skipped out on the Galaxy Note. After this phone, the world is sort of expecting HTC to bring it all home with their own 5″ device, only it will sport a 1080p display, something the Intuition can't match.
Cheers ___!