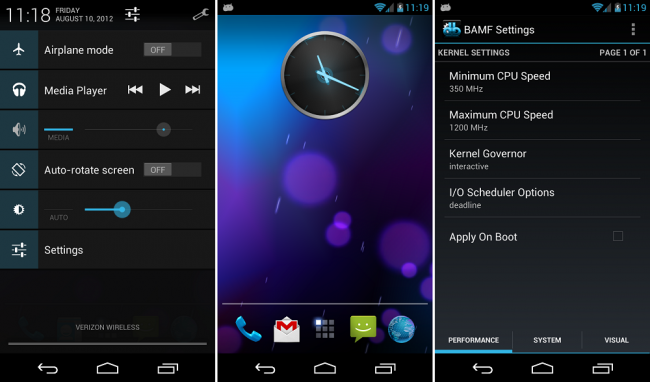 It's an appreciated change of pace when a team of developers can simply state their goal. Over on the BAMF site, the developers intro the Paradigm ROM with, "When we set out to build this ROM, we wanted to keep the feel as stock as possible while adding as much functionality as possible. The primary concern was always stability and user experience." That's what a flasher likes to hear. From my short time with the ROM on my own Galaxy Nexus, I have found it to be a fantastic example of pure AOSP with the perfect mix of customizable options and system optimizations. 
With the added features ranging from custom pulldown bar features and widgets to added wallpapers, you get the sense that this won't be the ordinary custom ROM with insane theme options or any other bloat. It's pure and fast Android.
Instructions for installation:
Download the BAMF ROM zip and partnered Gapps zip files.
Place on your device's storage.
Reboot into ClockworkMod Recovery.
Create a nandroid backup.
Locate the ROM zip and install.
Locate the Gapps zip and install.
Wipe data/cache.
Reboot.
If you have any questions or concerns, let us know down below.
Via: Team BAMF