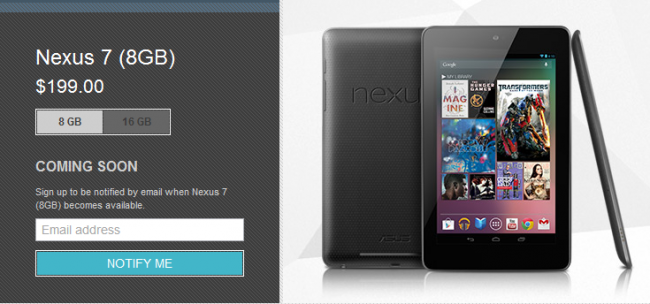 As of today, the 8GB version of the Nexus 7 is now marked as "coming soon" in the Google Play store. We've seen this once before earlier with the 16GB version that was unavailable for about two weeks, but this is the first time we've had the notion that Google may be temporarily sold out of the 8GB variant. Either way, the 16GB version is available for shipping within 3-5 days so if you need a Nexus 7 today, that is your only option.
We'll see how long this unavailability lasts…
Update: Well, it looks as though Google didn't waste any time in restocking their e-shelves with the 8GB version of the Nexus 7. They are back in stock and selling at the same $200 price. Nice to know we aren't going to see a rehash of the mishap with the 16GB version as we did earlier last month.