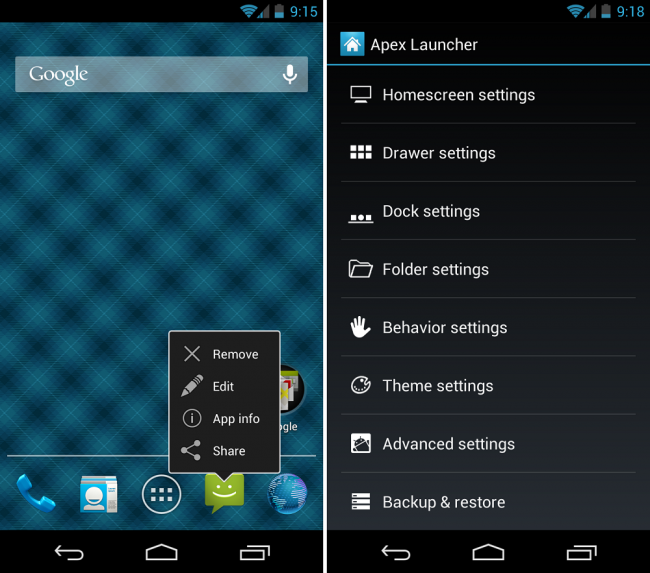 Apex Launcher lovers can pick up the newest beta build that was released yesterday. Inside is a load of new stuff and the entire app has been rebuilt on top of the Jelly Bean base code. You will notice speed increases across the launcher and many other features that JB brought like widgets auto-moving when placing them on homescreens and auto-resizing when there's no more space available. You can take a peak at the full changelog down below. 
v1.3.0beta1 (Aug 1, 2012)
Rebuilt based on Android 4.1.1 Launcher, lots of JellyBean goodness:
When placing widgets on the screen, everything else automatically moves to make room
When they are too big, widgets resize on their own to fit on the homescreen
Quickly remove apps/widgets by flinging them to the edge of the homescreen
Major performance boost for homescreen and drawer
New app enter/exit animations (JB only)
Switched to phone layout on 7″ tablets (e.g., Nexus 7)
Added background for widgets in the drawer
Fixed icon ordering bug within folders
Other improvements and bugfixes:
Unlimited drawer tabs and new drawer management UI (pro)
Improved drawer tab switching for vertical drawers (pro)
Fixed Play Store widgets on JellyBean
Fixed paid theme (icon pack) issue on JellyBean
Lots of other improvements and enhancements
Updated translations
Download: Apex Beta APK
Via: XDA
Cheers Eric!