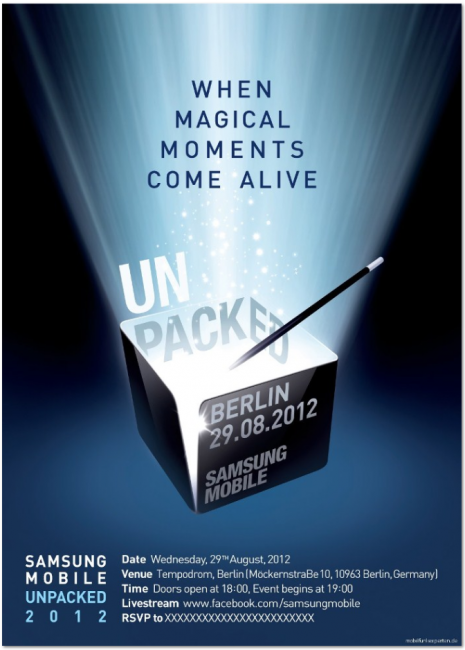 Invitations for this year's IFA Unpacked Event by Samsung are rolling out to members of the press and tech community. The event takes place on August 29 at the Tempordrom in the city of Berlin, Germany. The web is abuzz with what we can expect from Samsung this year and fingers, or should I say magic wand, is pointing to a Galaxy Note 2. Rumored specs on the device so far suggest that it contains the new quad-core Exynos processor clocked at 1.6GHz, 4G LTE connectivity, and sports a 5.5″ display at 720p. 
As we get closer to August 29, we can hope to hear more official details of what we can expect from Sammy. As for what we hope to see, I wouldn't mind catching a glimpse of the 11.8″ tablet with the specs that were released in court showing a resolution of 2560 x 1600 at 256ppi.
What would you like to see from Samsung this year?
Via: SamMobile