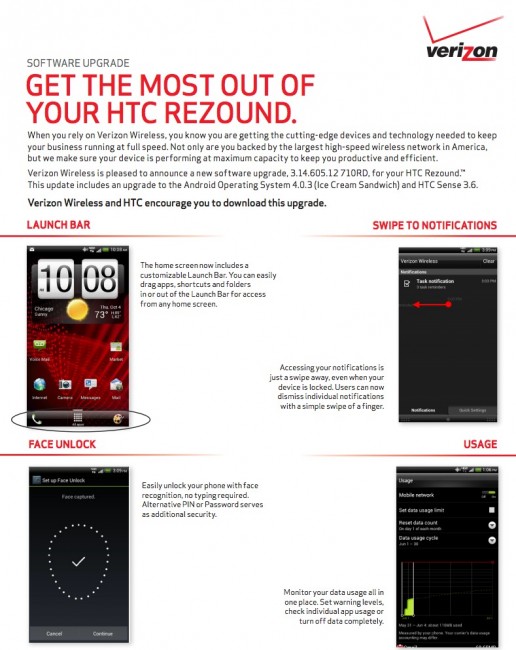 Well, we had heard whispers of an OTA update for the HTC Rezound starting to roll out last night, and sure enough, Verizon has published the documents that prove we were right. Ice Cream Sandwich is ready and should be headed to your device any day now. In fact, some of our readers have already received it. So you know, these updates tend to start popping up on devices in small batches for the first few days as tests before becoming available to everyone.
HTC told us that this sucker would be ready before the end of July, a date they will end up two days late on. Still, not bad. From what we can tell, this update was ready over a month ago anyway and was simply awaiting final approval. Plus, they were clearly working on a handful of devices including the EVO 3D.
The final build number is 3.14.605.12 710RD. The version of Android is 4.0.3. It's Sense 3.6, not the 4.0 that you will find on the Incredible 4G LTE and entire One Series, but it should still be a major improvement thanks to it being atop Ice Cream Sandwich. At 299MB in size, this one is going to take a minute or two to download. Also, be sure you have plenty of battery.
To find out all of the dirty details, we have included all 3 pages of support docs for you above and below.