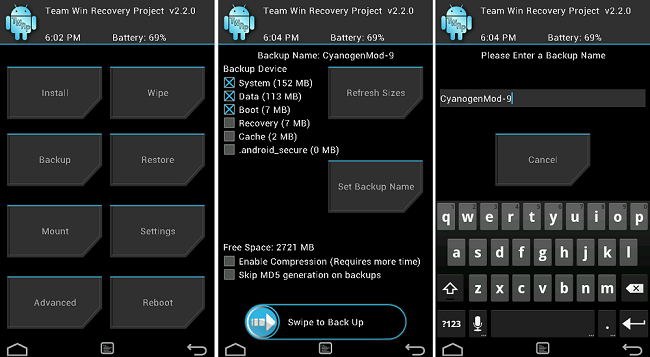 If you haven't heard of the Team Win Recovery, it is completely touch-based (no more volume rocker BS) easy to navigate recovery. Built from AOSP, it has had many custom features added and is quite widely used by the Android community alongside ClockworkMod Recovery. It received a major update yesterday, which brings a full keyboard that users can access to edit file names and other actions, a pseudo terminal emulator, and backup archive splitting. 
Full Changelog:
On-screen keyboard in recovery! — supports long press, backspace repeat, and swipe left deletes everything left of the cursor
Name new backups and rename existing backups
Rename files and folders in the file manager
Pseudo-terminal emulator
Support decrypting an encrypted data partition on Galaxy Nexus (enter password using keyboard)
Backup archive splitting — allows backup and restore of data partitions larger than 2GB
Simplified XML layout support between resolutions
Added dual storage selection radio buttons to zip install, backup, and restore pages
Improved zip install compatibility
Updated update-binary source code
Numerous small bug fixes and improvements
If you want to access the newest version of the recovery, you can download it from the via link below.
Via: TeamWin
Cheers Adam!