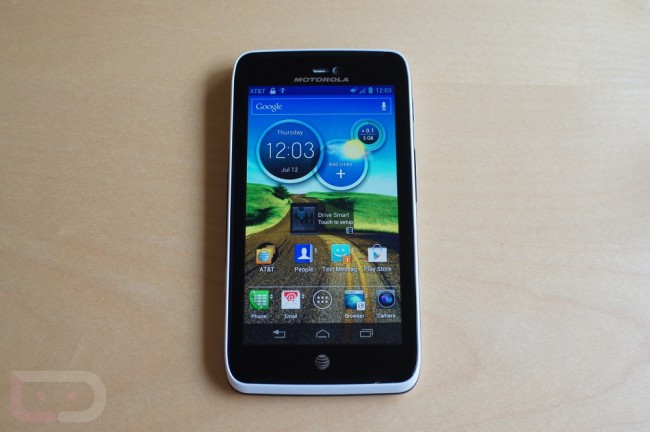 Motorola's first HD phone for the U.S. market, the Atrix HD, has arrived at our doorstep. Launching in stores on July 15, you can pick one up for $99 on 2-year contract. With its 4.5″ HD ColorBoost display, 1.5GHz dual-core processor, 1GB of RAM, 8MP camera, and 4G LTE radio, that sounds like a steal to me. The look is clearly reminiscent of the RAZR series from Motorola, but since it has on-screen navigation keys, that HD display, and a Snapdragon processor, it performs quite a bit differently. 
In just the short amount of time that I've had with it today, I can say that this phone feels amazing in hand. When I first booted up, I almost didn't think it had a battery inside because of the light weight. The on-screen navigation keys are also a bonus for Android enthusiasts, but the true star here is the display. I've already taken a macro shot of it which I'll post up in a bit. The colors just seem extra vibrant even though it's not an AMOLED display. We are still waiting to find out all of the details behind this ColorBoost technology, but so far I can admit that I'm a fan.
The device runs Android 4.0.4 and has a new version of MotoBlur on it that has already shown us a couple of surprises. Again, I have only had the phone in hand for about an hour, but I'm liking what I'm seeing.
Unboxing and First Look:
Gallery: