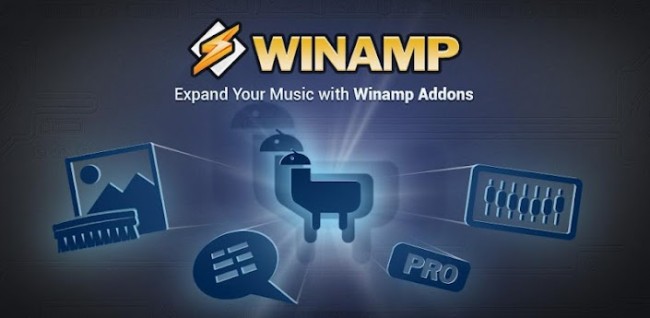 Today marks the 15th birthday of Winamp. To celebrate, they are introducing an upgraded version of the software for Android, Mac, and PC users. What makes the new update special is the addition of the new In-App Store along with purchasable items such as Album Washer, which allows users to clean-up, and organize their music with the press of a button. 
The add-on will be sold at $0.99 for only a limited time, so make sure to go grab it if Winamp is your player of choice. Congrats to the Winamp team for 15 years of good tunes.
Play Link
AOL Unveils New Winamp Album Washer in Celebration of 15th Anniversary 
Debuts Upgraded Versions of Winamp for Android, Mac and PC

#1 Free Third-Party Music Management App on Android Now with Almost 20 Million Downloads 

NEW YORK–(BUSINESS WIRE)–AOL Inc. (NYSE:AOL) announced today the release of Winamp Album Washer, powered by Gracenote®, a new feature in Winamp for Android that allows users to clean-up and organize audio files creating a more seamless user experience for passionate music fans. Winamp also plans to unveil updated offerings for both Mac and PC platforms demonstrating Winamp's continued commitment to innovation as it celebrates its 15th anniversary.

"We're excited to introduce Album Washer and these latest updates which include a richer experience across Android, Mac and PC platforms," said Geno Yoham, GM of Winamp. "These product releases are another step in our roadmap and vision to provide our users with the most robust set of tools to enhance and customize the way they listen to and manage their music on multiple platforms, empowering the user has been a strategic focus and part of the Winamp DNA for the last fifteen years."

Winamp for Android (v1.3)

The latest version of the free player includes Album Washer, a premium add-on available in the new in-app Store. Album Washer makes cleaning up audio files easy by updating users' incorrect or missing tags (Artist Name, Track Title, Album Name, etc.) and by downloading high quality album art. In celebration of Winamp's 15th anniversary, Album Washer will be available for only $0.99 for a limited time.

Also available in the new in-app store is the Pro Bundle, a bundle of premium features including a customizable home screen, ability to browse by Folders, crossfading between tracks and a 10 band graphic equalizer. The new release includes:

New Winamp In-app Store
New Album Washer in-app purchase
New Move to SD Card feature — great for user's who have limited internal storage
SHOUTcast radio search and notification optimizations

Winamp for Mac Sync Beta

Winamp for Mac is the OSX version of the popular Winamp media player available on Windows and Android. Winamp for Mac allows users to wirelessly sync their iTunes music library to their Android device, manage their music and playlists, and playback their music. The new release includes:

Album Art Views
Play Queue Window & Drag and Drop
Auto-update, including a Beta channel for the latest feature releases
Support for Growl and in application notifications
Faster performance and high quality playback

Winamp Media Player for PC

The iconic Winamp is still the Ultimate Media Player. With a robust feature set for managing and consuming audio, video, playlists, podcasts, internet radio and more. There over 6,000 add-ons including built-in services for ticketing, lyrics, and downloading music. The Winamp Media Player is translated into 16 languages and is home to SHOUTcast Radio – one of the largest internet radio directories with over 54,000 stations.* The new release includes MPEG Surround Playback support and an update to the popular Winamp browser toolbar, newly translated into 16 languages.

Released in 1997, Winamp offers a complete end-to-end media player solution that features wireless desktop sync, iTunes import, and access to thousands of SHOUTcast internet radio stations. "With the launch of today's latest offerings, Winamp furthers its position as a full service music management companion, helping consumers download, organize and manage the music they love using multiple devices," said Jay Kirsch, SVP and General Manager, AOL Media Group.