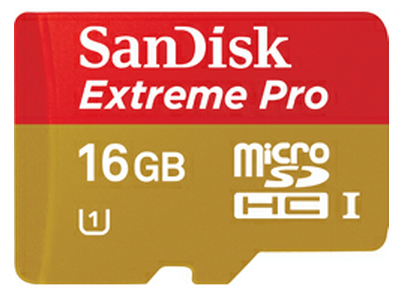 SanDisk has launched their newest UHS Speed Class 1 rating (Class 10 equivalent) mobile memory cards. With the company reporting speed capabilities of 95MB/s read and 90MB/s write, it doesn't look like you'll have to wait for your gallery or files to load ever again. As of right now, they're only available in 8GB and 16GB options which are $60 and $100. Thinking about picking one up?
Via: SanDisk
MILPITAS, Calif., June 19, 2012—SanDisk Corporation (NASDAQ: SNDK), a global leader in flash memory storage solutions, today announced the world's fastest mobile memory card. The SanDisk Extreme Pro® microSDHC™ UHS-I card is ideal for smartphone and tablet users who want to boost their device's storage capacity while enjoying the fastest mobile experience.

Maximum Performance for Next-Generation Mobile Devices
The SanDisk Extreme Pro microSDHC UHS-I card enables smartphone and tablet users to fully enjoy their mobile device's advanced applications.

Full HD Video Capture: Mobile phones will capture approximately one third of all video footage by 2014, according to IDC3. With a UHS Speed Class 1 rating (Class 10 equivalent), the new card allows consumers to record superior Full HD videos, even in 3D
High-Quality Photo Capture: Mobile phones will capture 525 billion photos in 2012, roughly half of all photos captured this year, according to IDC4. The card is ideal for mobile imaging applications, offering up to 90MB/sec write speed for capturing multiple photos using burst mode with a UHS-I enabled mobile device
Faster File Transfers: With up to 95 megabyte per second (MB/sec) read speed, the card moves files quickly between host devices
Seamless Multitasking; Fast Downloads: The card allows consumers to smoothly run multiple applications at the same time and download files quickly using 4G LTE phones

"SanDisk offers the broadest mobile memory card lineup in the industry," said Chris Loh, director, product marketing, SanDisk. "Our portfolio includes microSD cards with the fastest speeds, highest storage capacities and reliability that consumers demand."

Availability and Pricing
The SanDisk Extreme Pro microSDHC UHS-I card is available on www.sandisk.com in 8 gigabyte (GB)5 and 16GB capacities carrying MSRPs of $59.99 and $99.99. The card is compatible with any microSDHC-slotted device and is ideal for UHS-enabled smartphones and tablets.