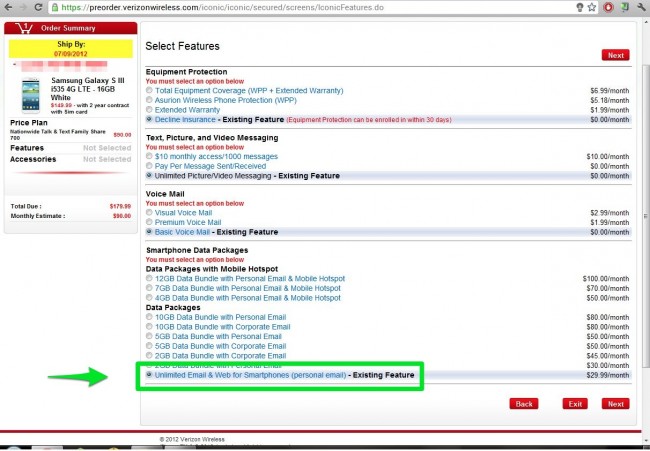 Here is one last Share Everything data plan note/reminder and we should have just about covered it all. And actually, we talked about this back when the Galaxy SIII first went up for pre-order, but we have seen some confusion on the subject in the comments and on Twitter and decided to talk about it one more time. I cannot say this any clearer – if you pre-order the Samsung Galaxy SIII before June 28, you can keep your unlimited data plan (assuming you already have an unlimited plan). 
How do we know for sure?
Well first of all, we heard directly from Verizon's top communications director who told us as plain as she possibly could, that if you pre-order this phone, that you can keep your current plan. There was no beating around the bush or tricky word phrasing – she told us straight up that this is the deal.
Second, I walked through the process myself last week and as you can see from the screenshot below, unlimited data was a part of my checkout process. Third, I had Tim walk through it on his account today, now that Share Everything plans have been announced, and he also was able to select his current unlimited data plan and not a tier or share of any sort (pictured above).
We have heard from readers that spoke with VZW support reps who are for some reason under the impression that this isn't the case. I hate to say this, but I'm not sure they know what they are talking about. The only way Verizon could get me off of unlimited data after going through this pre-order, would be to void my contract and force me onto a shared plan. They can't do things like that, folks. Even if the phone ships on July 9 (after shared plans are live), I have already locked in according to the document that you are seeing below. When I activate the device whenever it does ship, it won't matter because it's all about the date that you sign the new contract, which for me, was last week or for you would be this week.
Think about it. If you pre-order and the phone arrives on July 9 at your doorstep, how is Verizon going to change your plan? When you pre-ordered, you told them what you want your plan to be, so that when the phone shows up, you can simply activate it and be on your way. It's not like you would have to go back online once your phone arrives, and re-select plan features that would take you off of unlimited data. That wouldn't make any sense.
What about Best Buy pre-orders?
With that out of the way, let's talk about the tricky situation here that involves Best Buy. When you pre-order a phone through Verizon (at least online), you purchase the phone as if you were walking out of a store with it today, which means you choose plan and feature options and then extend a contract. The only difference between buying a RAZR MAXX today and the Galaxy SIII is that you don't get the Galaxy SIII until Verizon is ready to ship it. But again, if you pre-order through Verizon directly, you get to lock into that contract.
Best Buy on the other hand could be very different. When you pre-order with Best Buy, all you are doing is holding a device for $50 until it arrives in store. When it arrives, you then cruise into your store and finish the process which would involve extending your contract and paying for the rest of the device. Seeing the problem here? If the Galaxy SIII does not come out until after Share Everything plans are in effect, there is a pretty good chance that you will have to move from unlimited onto one of these new plans because you did not lock in beforehand.
We are hearing that Best Buy is telling customers that pre-ordering and putting $50 down will keep their unlimited data plans safe, but I'm having a hard time believing that to be true. If you are going to pre-order through Best Buy, I highly suggest that you ask as many BBY employees, including managers, as you can to be 100% certain. I would hate to see a bunch of unlimited data users receive bad news on Galaxy SIII launch day.
Did you pre-order?
If you pre-ordered any time over the last week from Verizon, we would love for you to confirm in the comments that you kept your unlimited data. If you pre-ordered through Best Buy, we would love to hear exactly what their sales reps are telling you as far as keeping unlimited data is concerned.
If anything else changes from what we have told you today, we will be sure to let you know.