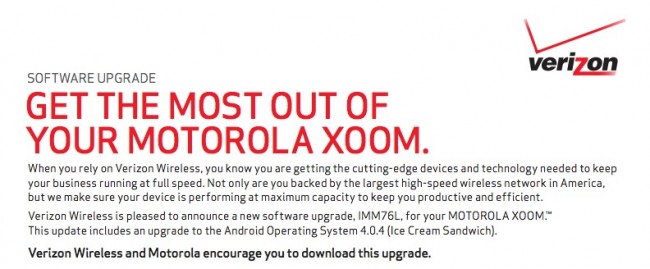 Here is the official file, straight from Google. As you can see, the build has changed to IMM76L. 
Download:  IMM76L-from-HLK75H.2a903016.zip
Instructions:
*Instructions require a USB host cable (like this) and USB drive/stick.
* You will also need to be on Android build HLK75H
1.  Download the file from above and drop it on a USB stick or SD card that can be put in a USB Stick.
2.  Turn your XOOM off.
3.  When you power it back on, tap Volume Down at the red M logo until it says:
–> Android Recovery
4.  Tap Volume Up to enter recovery mode.
5.  At the green Android logo, press Power and Volume Up.
6.  Plug in your USB drive to a USB host cable and then into your XOOM.
7.  Scroll down to "apply update from USB drive" and select it with Power.
8.  Scroll down to the .zip update file from above and use Power to select it.
9.  Your XOOM will now update.
*Note – If you know another method for manually updating, please let us know in the comments.
Cheers Justin!