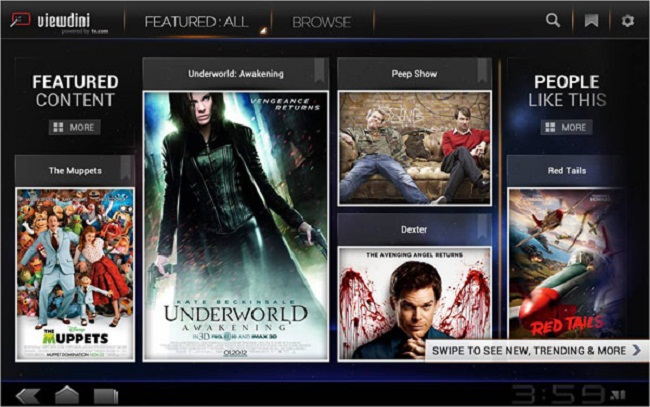 Later this month, Verizon plans on launching a vid-centric application that will help users of their 4G LTE network stream all of the Hulu, Comcast Xfinity,  and Netflix goodness their data plans will allow. The app aims to bring all of the major TV and Internet media providers into one centralized location for users to stream straight to their LTE capable device. As you can tell, this is going to be a very data intense application, so if you don't have an unlimited data plan, use caution when streaming those old episodes of Dexter. 
Verizon Wireless Introduces Viewdini: Innovative Mobile Video Portal To Provide Quick And Easy Access To Content 

Video from Leading Content Providers, Including Verizon FiOS, Comcast and Others, to Give Customers Choice of Entertainment on Mobile Devices
05/22/2012

BOSTON and BASKING RIDGE, NJ  — Verizon Wireless today introduced viewdini, an innovative portal that creates a new entertainment choice for consumers by making it simple to search and view movies, television shows, and other video on mobile devices.

Viewdini leverages the power of Verizon Wireless' 4G LTE network, streamlining access to videos from a wide range of content providers, including cable operators, websites and other popular video sources.  Comcast Xfinity®, Hulu Plus, mSpot and Netflix are among the participants at launch, with more including Verizon FiOS expected to be added soon.

"Verizon Wireless has the network to deliver the video choices our customers want with the quality and speed customers demand," said Dan Mead, president and CEO of Verizon Wireless.  "Working with a wide range of providers, we're giving our customers a simple and intuitive way to find shows, movies and other videos from the sources they have relationships with and discover new sources of video as well."

Verizon Wireless made the announcement in Boston at The Cable Show 2012, the National Cable & Telecommunication Association annual conference.

Verizon Wireless' viewdini acts as a mobile video aggregator that makes it easy for users to search thousands of titles from some of the Web's leading content providers like Netflix, Hulu Plus, mSpot, TV sites, movie studios, Comcast's Xfinity TV, Verizon FiOS and cable operators.  By simply searching for a title, topic, or star's name, viewdini will let customers know which services have mobile video for streaming, and whether it is available  at no additional charge, by subscription, to rent or for purchase.  A simple click will also provide related content and information like cast and crew info and links to similar titles.

Viewdini will be available to Verizon Wireless customers with 4G LTE Android™ devices later this month, with support for other operating systems expected to be added soon.  The application can be downloaded from the Google Play store, and is free to customers.
Image via: AllThingsD