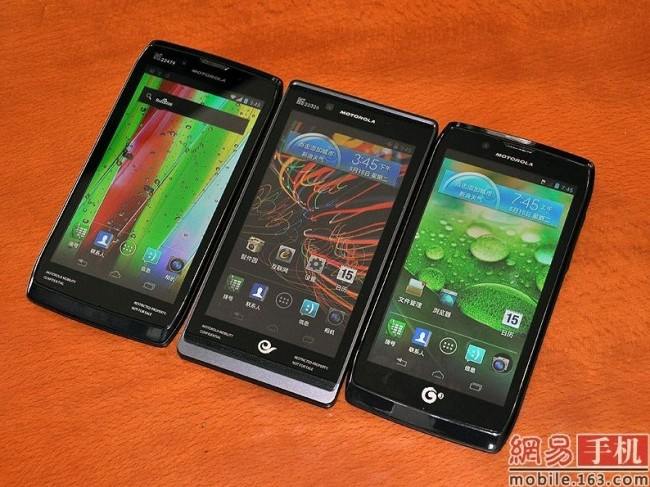 The Samsung Galaxy SIII and its arrival in the U.S. is a huge deal, but for whatever reason, I get the feeling that everyone is also eagerly awaiting the DROID RAZR HD by Motorola. While most details have avoided us thus far, the original RAZR and RAZR MAXX have been big enough successes that an HD variant will likely draw in some long time Moto fans. Thanks to an event held by Motorola China, we have fresh pictures of 3 devices coming in June that give us a bit of an idea as to what we can expect with the RAZR HD here in the States. 
Currently codenamed the "DROID Fighter" and headed to Verizon, we have only seen one picture of the device at this point. It looks exactly like the phones you are seeing above though, with on-screen navigation keys, same RAZR styling, and Ice Cream Sandwich. The source that took these pictures did claim that these phones only have qHD screens, but that is sure to change when the phone arrives here or that "HD" tag on the end of its name won't make any sense. The thickness is right around 9mm, which would lead us to believe that Motorola is packing in its 3300mAh battery. Other than that, it's the same wide body, hump on the top, and kevlar backing.
Is the RAZR HD your next phone?
Via:  Mobile.163
Cheers kirabee!