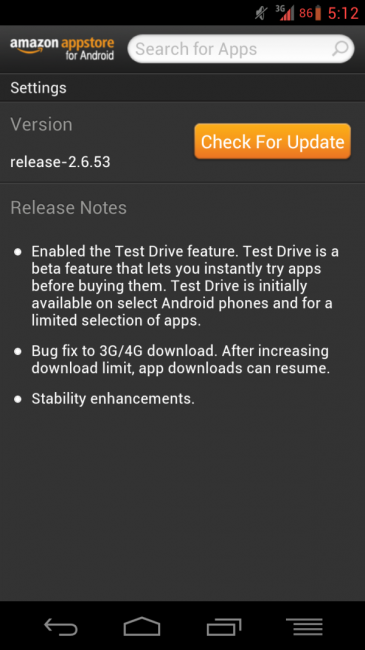 According to the notes in the latest update for the Amazon Appstore that was released today, you can now "Test Drive" apps from directly within the Appstore rather than having to do it through a browser at Amazon.com. For those not familiar, "Test Drive" is a way for users of Amazon's store to check out apps before purchasing them to see if they indeed would like to purchase them. The on-app version is a "beta feature" that comes with Appstore version 2.6.53. Amazon is making it available to select devices at this time, but plans to roll it out to many more over the next few months. So far, I'm not seeing any Test Drive love on either the Galaxy Nexus or One X.
For whatever reason, I cannot get any phone to update to this new version. Should you find a way, be sure to let us know if the Test Drive feature works well or not. This could be worth giving Amazon another shot…well, maybe.
Update:  If you click on this link from your phone, it should download the latest version with Test Drive. 
Update 2:  More info on Test Drive:
How do customers Test Drive your app?

Customers click the "Test Drive" button on an app product page and in seconds, they can use their phone's touch screen and accelerometer to control the app, simulating the experience of the app running on their phone.  Test Drive provides customers with the experience of running an app for the first time, as if it were freshly installed.  Customers can purchase or download the app at any point during the Test Drive experience.

The Test Drive beta is available for free to customers who update to the latest release of Amazon Appstore for Android on their phone (version 2.6.53 or higher).  Initially, Test Drive will be available on select phone models but over the coming months, we will roll it out to many more.  When new phone models are supported, the Test Drive button will automatically appear on apps that are enabled for Test Drive.

How does Test Drive work? 

Amazon brings the Test Drive experience to Amazon.com and Android phones using the massive server fleet that comprises the Amazon Elastic Compute Cloud (EC2), a web service that provides on-demand compute capacity in the cloud for developers.  When customers click the Test Drive button, we launch a copy of the app on EC2. As customers interact with the app, we send those inputs over the phone's WiFi Internet connection to the app running on Amazon EC2.  Our servers then send the video and audio output from the app back to the customer's computer or phone. All this happens in real time, allowing customers to explore the features of the app as if it were running locally on their mobile device.
Cheers Dustin and @expertontech!