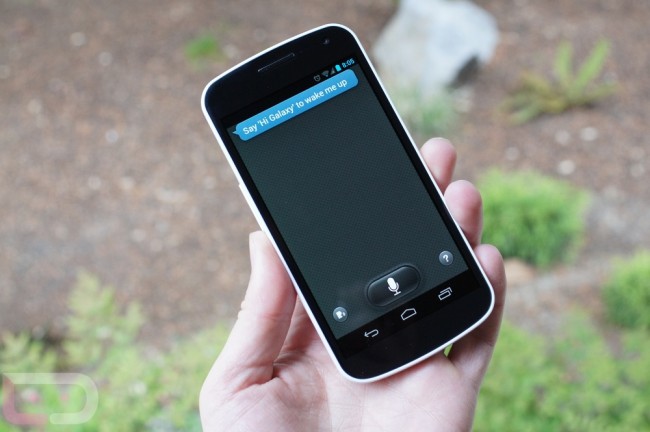 The S Voice app from the Galaxy SIII is available for any rooted device running Ice Cream Sandwich to try at this time, thanks to a leaked full ROM from yesterday. For those not familiar, this is Samsung's attempt to put a Siri-like voice-actions system on their newest flagship device. Does it live up to the hype as being better than Siri or is it just another player in the game that already has too many? Let's find out. 
First off, please remember that this version of S Voice is running on my GSM Galaxy Nexus, yet it isn't supposed to be. There are going to be bugs, especially when the app tries to pull from apps that do not exist on any phone that isn't running TouchWiz. So to be fair to the app and Samsung, don't take this all as the definitive guide or what you can fully expect when you get your hands on the Galaxy SIII in the next few weeks. Think of this as showing only part of the potential. Second, it's powered by Vlingo, which is a voice recognition service that is good on its own and is available in the app store today to everyone. So unless Samsung is using some super special custom version of Vlingo that can't be found anywhere, this could be nothing new.
Tests
With simple tasks like "What am I supposed to do, today?" and "What's the weather like?" the app returned exactly what I needed to see. It also works well for reminders, settings alarms, and any of the other items it recommends you try (from the command list). It's fairly fast at returning most results and even allows you to say "Hi Galaxy" to wake it up, making this a fully hands-free operation.
As with any Android voice recognition app though, it starts to struggle when you try to get it to respond to things that aren't on its specific command list. I pulled directly from the most annoying commercial in history, aka the Zoe Deschanel spot that Apple is currently running, and it responded with some canned answer to my "Is that rain I hear?" question. It also force closed when I repeatedly tried to ask it to deliver me tomato soup.
When I tried to get responses to things I actually care about on a daily basis, like sports scores from the night before, it came up empty. Now, this may be something that all voice recognition apps struggle with, but is simply another reason why I think these tools, including Siri, are toys at best.
If you need to add something to your calendar or quickly call someone, they all work wonderfully. If you want to actually get something done though or fully simplify your life, none of these apps seem to be able to do that, yet. Take for example the shots below where I asked it to open Evernote and turn off GPS. It wanted to web search for GPS and after confirming with me multiple times that I wanted it to open Evernote, it never actually opened Evernote. These could be bugs since again, it isn't supposed to be running on anything other than the Galaxy SIII, but seeing that it recognized my voice perfectly, I'm not sure what to think.
Feel free to take it for a spin and tell us what you think. It should work for any rooted device running Ice Cream Sandwich.
____________________________________
Update:  Samsung has reportedly blocked this version from working. Here is an updated/fixed build.
Download:  S-Voice.apk
Instructions:
*Must be rooted.
1.  Download the file from above to your phone.
2.  Using something like Root Explorer, copy it into /system/app.
*You will need to Mount R/W first.
3.  Once in there, change the permissions to RW-R-R.
4.  Reboot your phone.
5.  Once booted back up, head into Root Explorer – /system/app again.
6.  Tap on S-Voice.apk and then install it.
7.  Enjoy.
Cheers Inquizitor, Tim and everyone else!