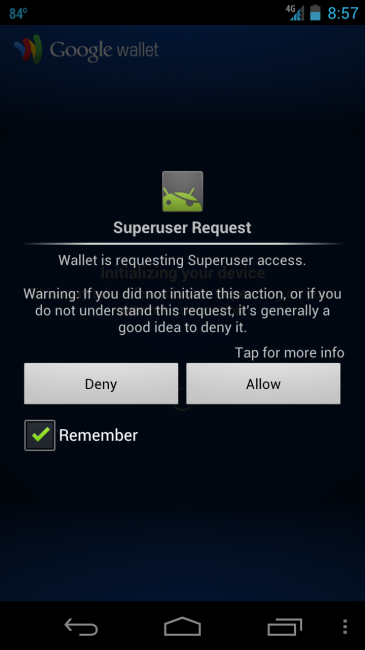 Google Wallet received an update this week to make it ready for the launch of the EVO 4G LTE. But as owners of the Galaxy Nexus noticed through the Play Store that they could also update, they grew confused when they were prompted afterwards with the superuser request to give the app root access. We have heard from at least a dozen readers that the app now asks for root and have also seen at least a handful of forum threads throughout the Android world discussing it, yet no one knows why this app would be requesting it. To be honest, we also have no clue why this app would need this kind of access.
In the past, after a "security" mishap that involved root access, Google decided that it wouldn't support rooted devices, so all we can think is that maybe this is a new way for them to verify? The odd thing is that users are reporting that the app still works whether you grant it access or not.
Yeah, we're confused. Any help?
Cheers Joshua and everyone else who sent this!